Installing Google Desktop On PCLinuxOS 2007 And Ubuntu Feisty Fawn
Version 1.0
Author: Falko Timme

This article shows how you can install the Linux version of Google Desktop on a PCLinuxOS 2007 desktop and an Ubuntu Feisty Fawn (Ubuntu 7.04) desktop. Although the program is still marked as beta, Linux users can already search for text inside documents, local email messages, their Web history, and their Gmail accounts.
I do not issue any guarantee that this will work for you!
1 Preliminary Note
I will show how to install Google Desktop on PCLinuxOS and Ubuntu in two separate chapters.
2 PCLinuxOS 2007
2.1 Install KPackage
Google Desktop is available as an .rpm package that we can use for PCLinuxOS. Instead of downloading the package to the hard disk and then install it manually using the command line, we can install it directly for the browser. To do this, the tool KPackage must be installed. If you don't have it installed, you can install it now. Open the Synaptic Package Manager by clicking on its icon:

Type in the root password: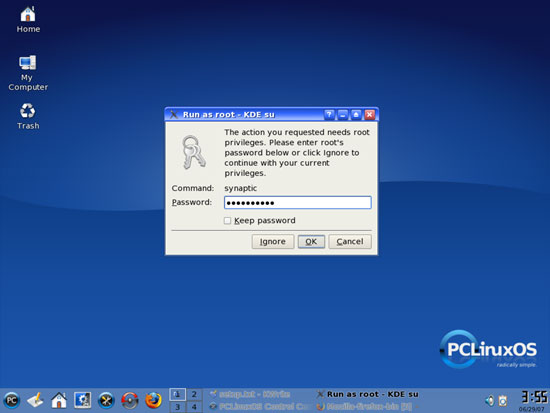 After Synaptic has started, click on the Search button and search for kpackage: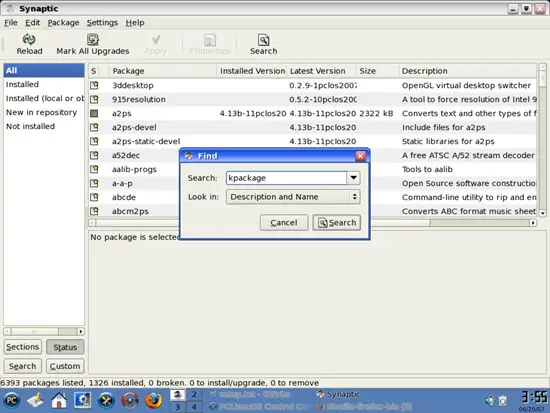 Synaptic should find the package kdeadmin-kpackage. Right-click it and select Mark for Installation: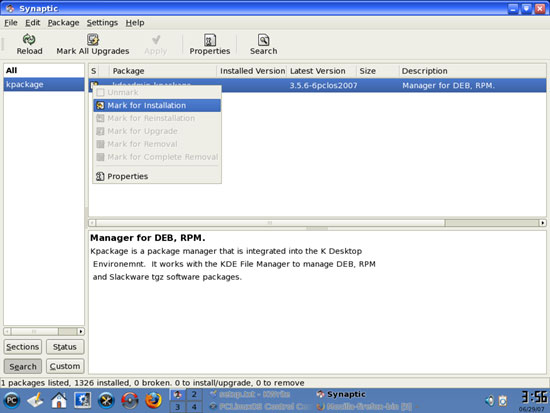 Then click on the Apply button: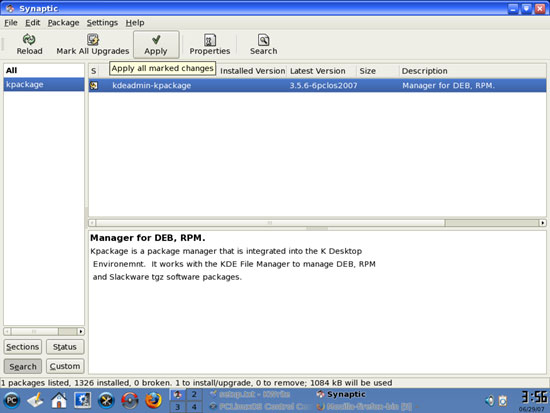 Confirm your selection by clicking on Apply again: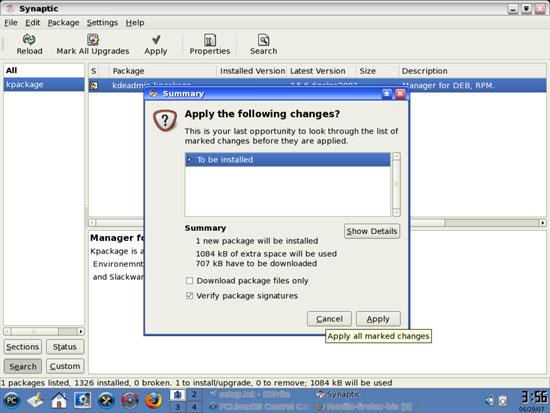 KPackage is now being installed: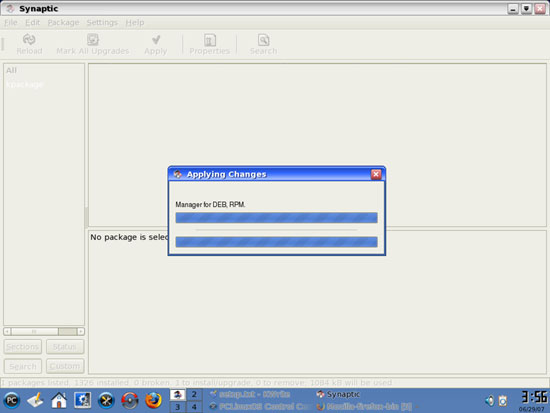 You can close Synaptic afterwards.
2.2 Install Google Desktop
Open http://desktop.google.com/en/linux in your browser and click on Download Google Desktop: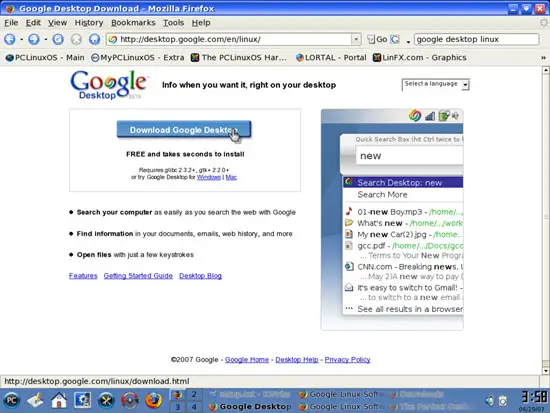 Click on the Free Download (.rpm) - for Red Hat/Fedora/Suse/Mandriva x86 link: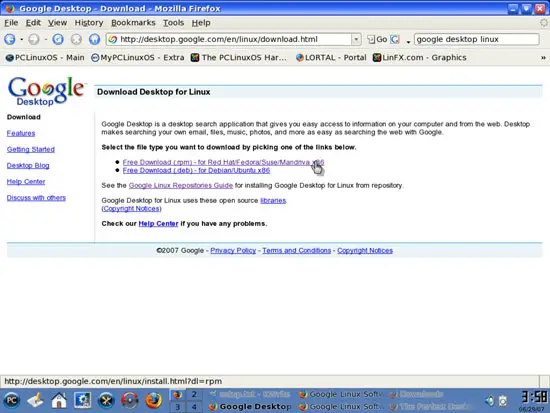 Read the Google Desktop Terms of Service and click on the Accept and Install button: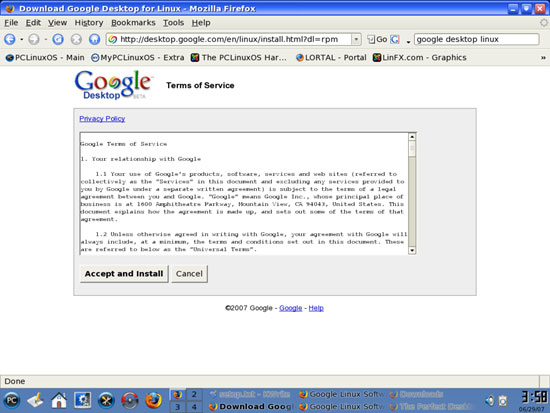 Your browser should now ask you if you'd like to save the file on the hard drive or if you want to open it with a program. Select Open with and click on the Browse... button right to it to select the appropriate program: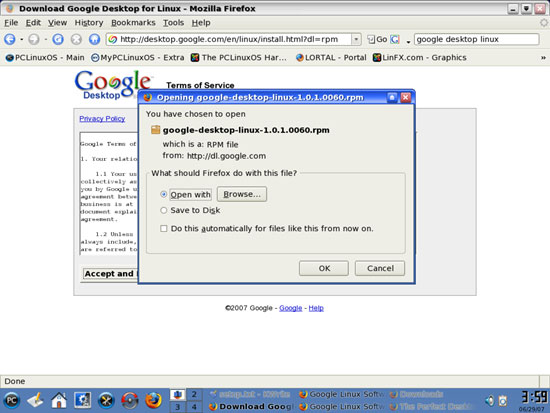 Now we can select the application with which we want to open the Google Desktop .rpm package - KPackage. It's located in /usr/bin/kpackage, so browse to /usr/bin and select kpackage: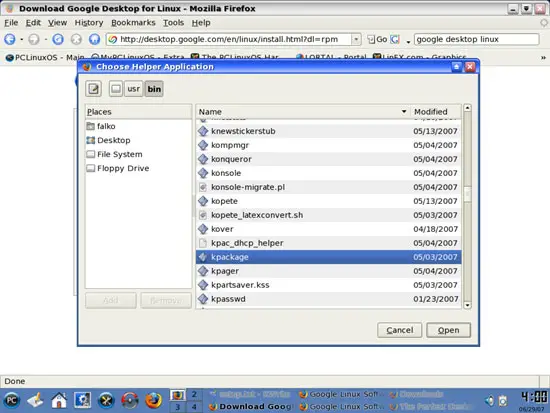 Open with kpackage should now be selected in your browser. Click on OK: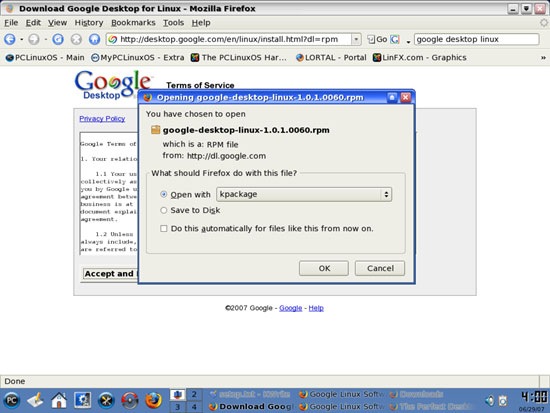 KPackage starts and displays some details about the Google Desktop package. Click on Install: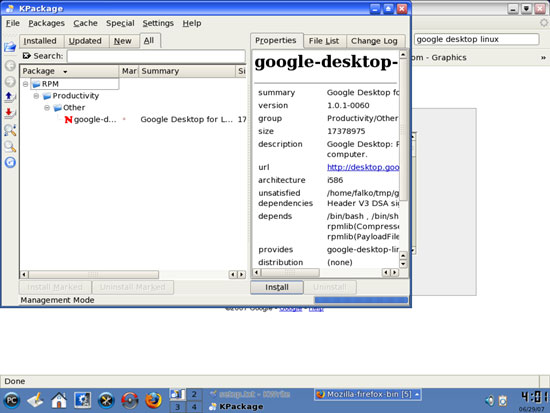 A new window opens. Click on Install again: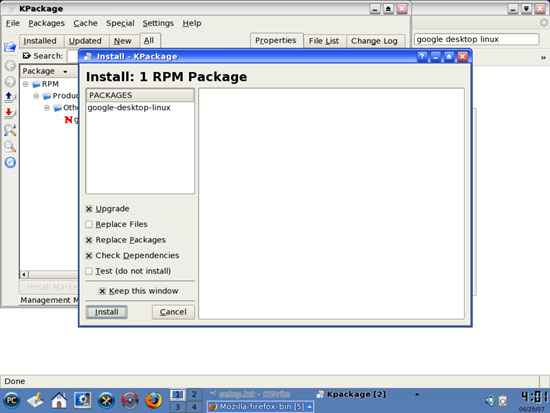 Type in the root password: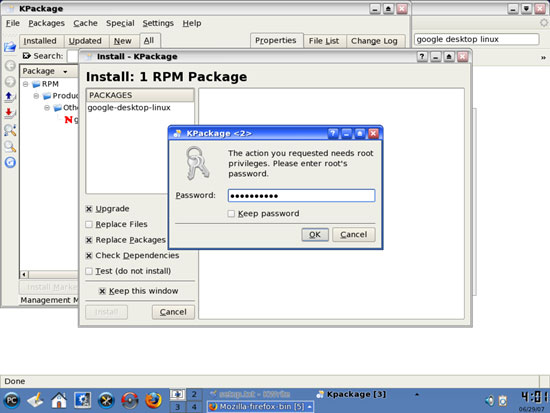 Google Desktop is now being installed. You can close the KPackage window afterwards.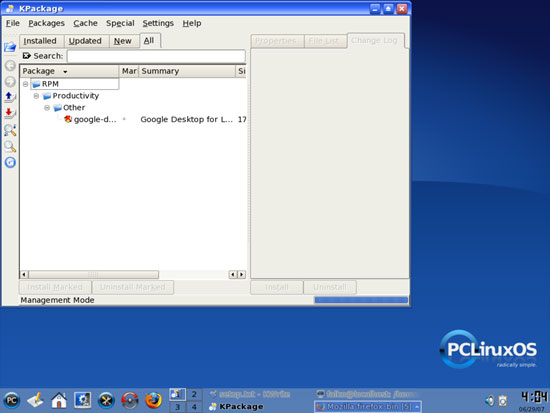 You should now find Google Desktop in the menu. Go to Google Desktop > Google Desktop Preferences: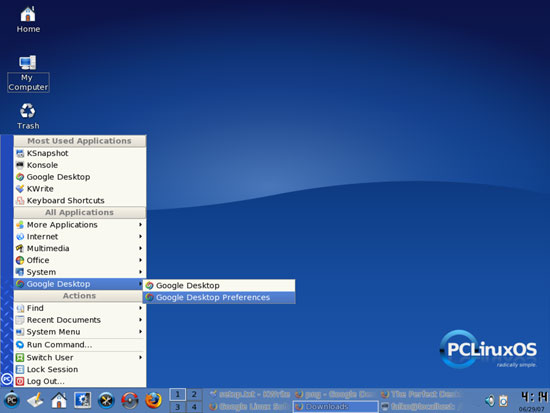 You can now decide if you want to enable advanced features or not. I stick to the default here and click on Enable Advanced Features: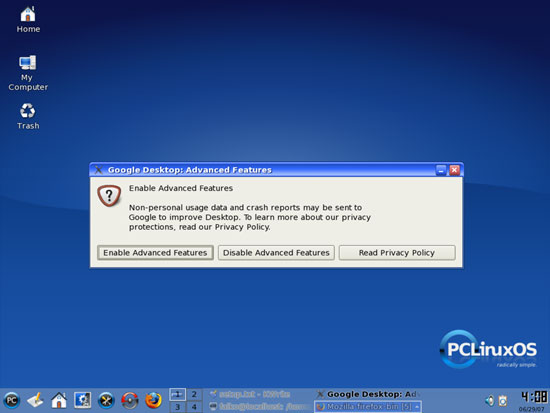 The Google Desktop settings open in a browser window. Configure it to your likings and click on Save Preferences: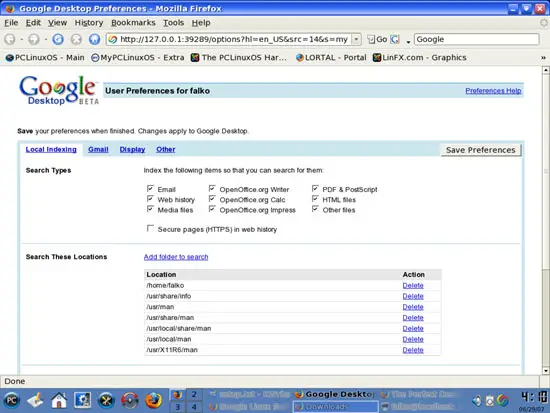 You can now find a Google Desktop icon in the taskbar. Double-click it to open the Google Desktop search box: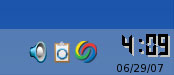 Fill in a search string (I want to search for .png images here) and specify where you want Google Desktop to search: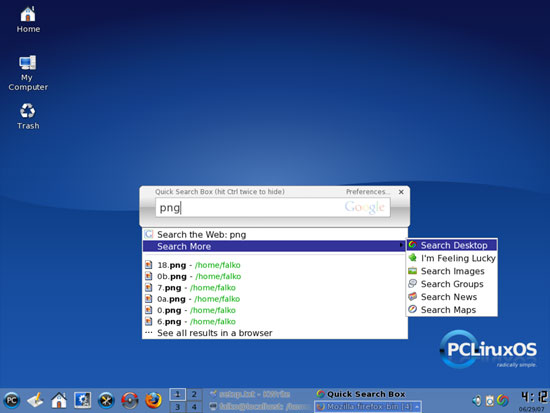 The results come up in a browser window: