The Perfect Server - CentOS 5.2 [ISPConfig 3]
Version 1.1
Author: Falko Timme

This tutorial shows how to prepare a CentOS 5.2 server for the installation of ISPConfig 3, and how to install ISPConfig 3. ISPConfig 3 is a webhosting control panel that allows you to configure the following services through a web browser: Apache web server, Postfix mail server, MySQL, MyDNS nameserver, PureFTPd, SpamAssassin, ClamAV, and many more.
Please note that this setup does not work for ISPConfig 2! It is valid for ISPConfig 3 only!
I do not issue any guarantee that this will work for you!
In order to learn how to use ISPConfig 3, I strongly recommend to download the ISPConfig 3 Manual.
On nearly 300 pages, it covers the concept behind ISPConfig (admin, resellers, clients), explains how to install and update ISPConfig 3, includes a reference for all forms and form fields in ISPConfig together with examples of valid inputs, and provides tutorials for the most common tasks in ISPConfig 3. It also lines out how to make your server more secure and comes with a troubleshooting section at the end.
1 Requirements
To install such a system you will need the following:
2 Preliminary Note
In this tutorial I use the hostname server1.example.com with the IP address 192.168.0.100 and the gateway 192.168.0.1. These settings might differ for you, so you have to replace them where appropriate.
3 Install The Base System
Boot from your first CentOS 5.2 CD (CD 1) or the CentOS 5.2 DVD. Press <ENTER> at the boot prompt: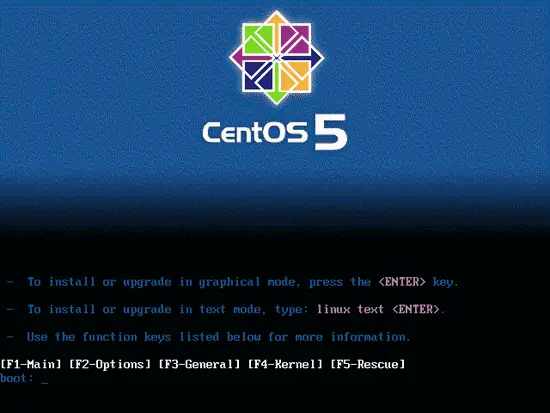 It can take a long time to test the installation media so we skip this test here: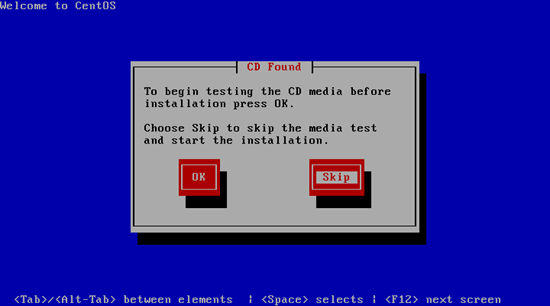 The welcome screen of the CentOS installer appears. Click on Next: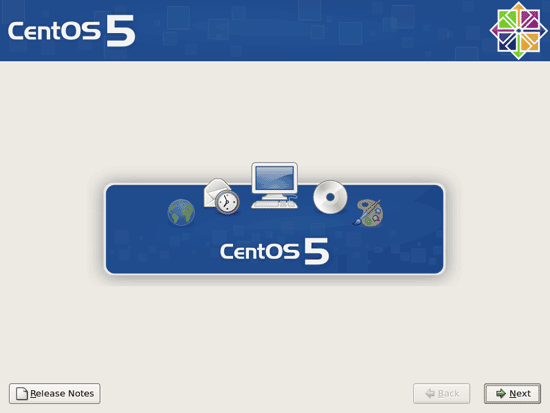 Choose your language next: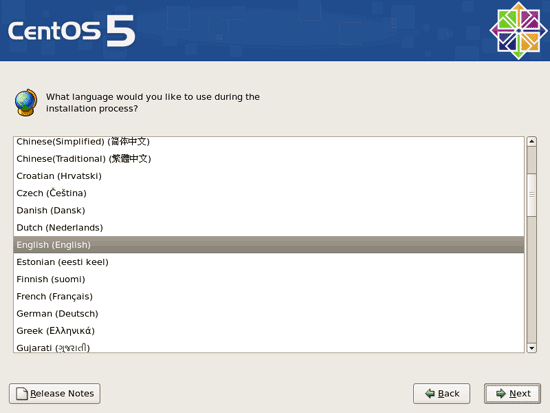 Select your keyboard layout: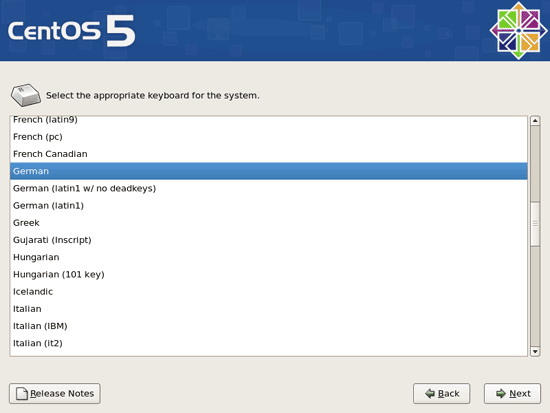 I'm installing CentOS 5.2 on a fresh system, so I answer Yes to the question Would you like to initialize this drive, erasing ALL DATA?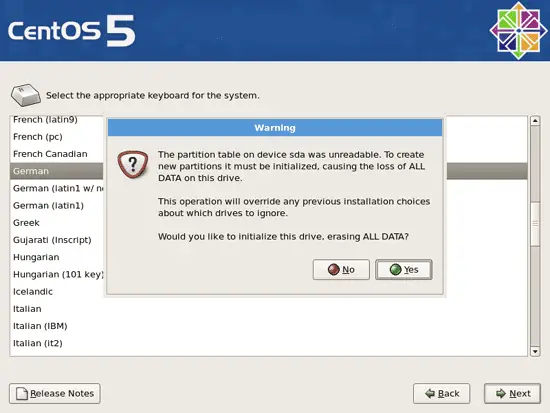 Now we must select a partitioning scheme for our installation. For simplicity's sake I select Remove linux partitions on selected drives and create default layout. This will result in a small /boot and a large / partition as well as a swap partition. Of course, you're free to partition your hard drive however you like it. Then I hit Next: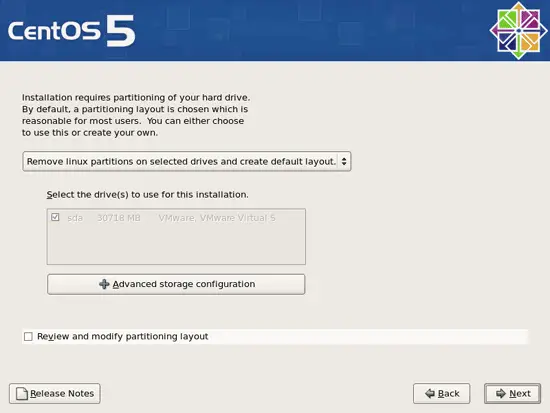 Answer the following question (Are you sure you want to do this?) with Yes: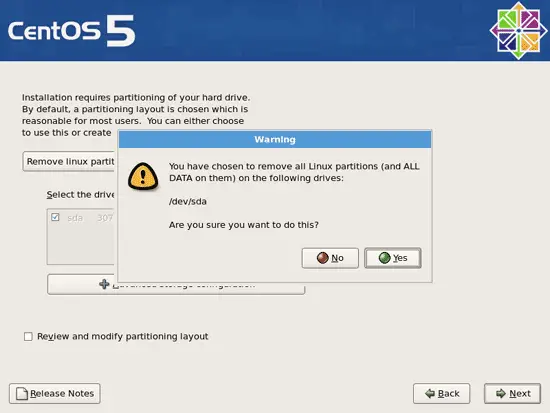 On to the network settings. The default setting here is to configure the network interfaces with DHCP, but we are installing a server, so static IP addresses are not a bad idea... Click on the Edit button at the top right.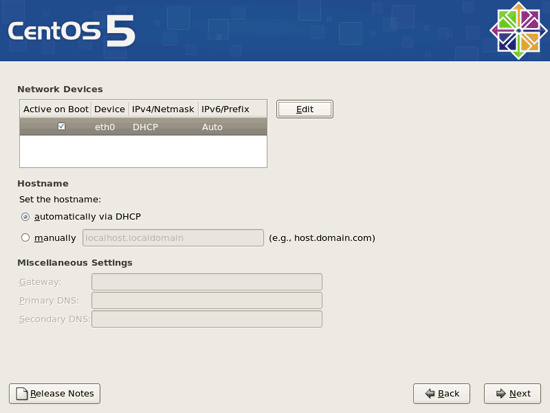 In the window that pops up uncheck Use dynamic IP configuration (DHCP) and Enable IPv6 support and give your network card a static IP address (in this tutorial I'm using the IP address 192.168.0.100 for demonstration purposes) and a suitable netmask (e.g. 255.255.255.0; if you are not sure about the right values, http://www.subnetmask.info might help you):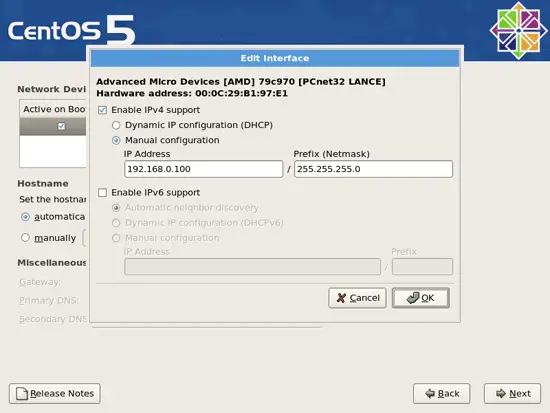 Set the hostname manually, e.g. server1.example.com, and enter a gateway (e.g. 192.168.0.1) and up to two DNS servers (e.g. 213.191.92.86 and 145.253.2.75):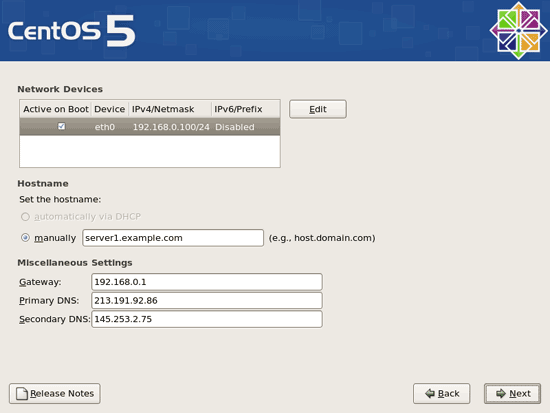 Choose your time zone: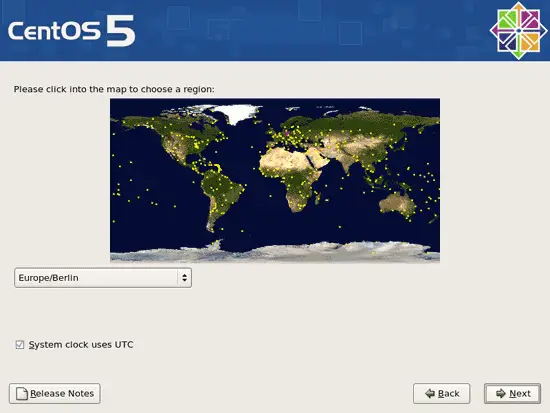 Give root a password: