The Perfect Desktop - Part 1: Fedora Core 6 - Page 5
This tutorial exists for these OS versions
On this page
7 Installing Additional Software
Now that we have added additional repositories, a lot more packages are available in our package manager for installation, especially a big deal of our needed packages. To install them, go to Applications > Add/Remove Software: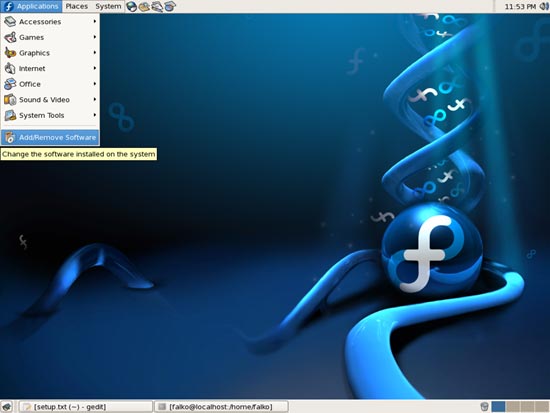 Type in the root password: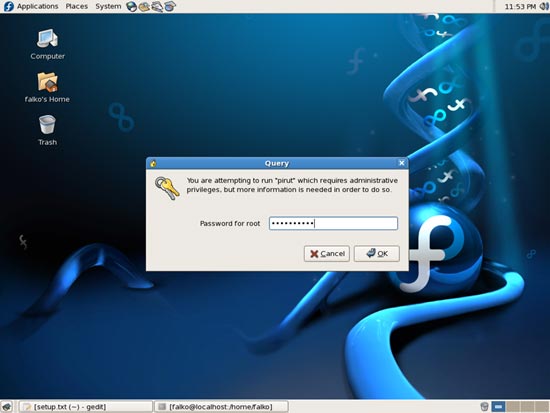 The Package Manager opens. Go to the List tab. Select the following packages for installation (* is a wildcard; e.g. mplayer* means all packages that start with mplayer) and click on Apply afterwards:
amarok
amarok-visualisation
amule
audacity
azureus
banshee
bittorrent
bittorrent-gui
bluefish
dvdrip
f-spot
ffmpeg
flash-plugin
gftp
gnomebaker
gnucash
gstreamer-plugins*
gtkpod
k3b
k3b-extras
kdewebdev
kino
lame
mjpegtools
mplayer*
ntfs-3g
scribus
thunderbird
vlc
xchat
xchat-gnome
xine
xine-lib
xine-skins
xinetd (needed by VMware Server)

xmms*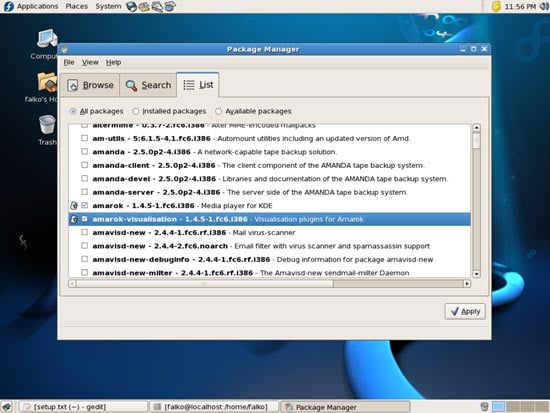 Click on Continue: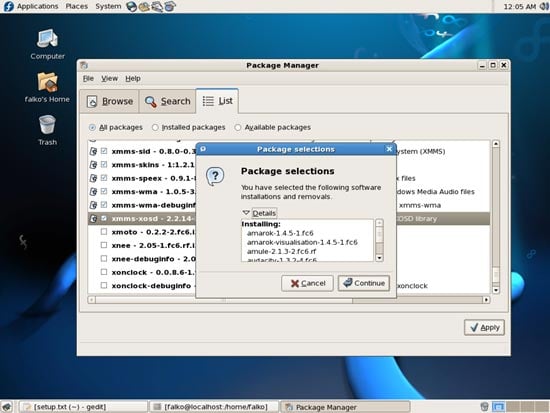 The Package Manager resolves the dependencies of the chosen packages: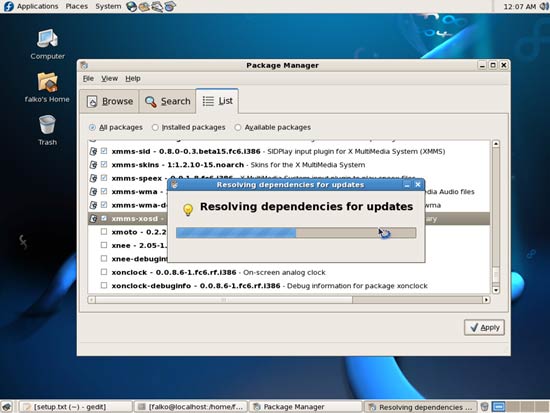 Click on Continue again: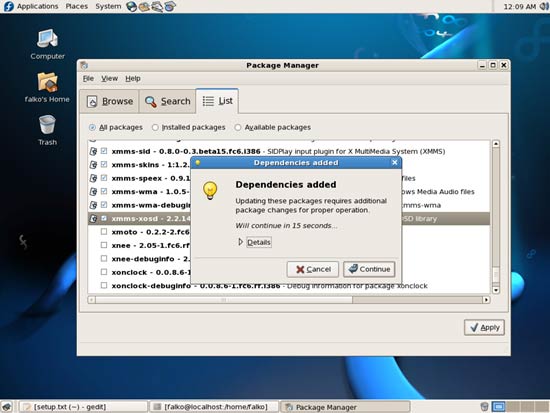 The chosen packages and their dependencies are downloaded: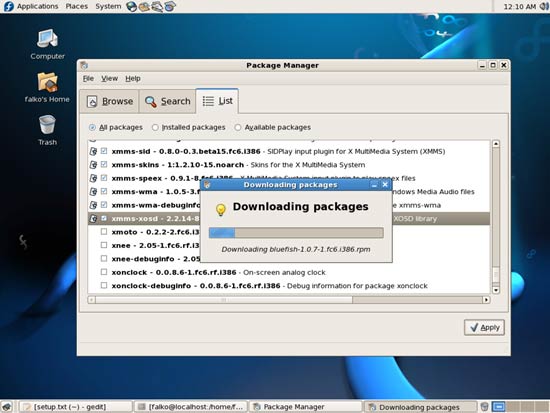 It is possible that there are other unknown keys. Accept them by clicking on Import key: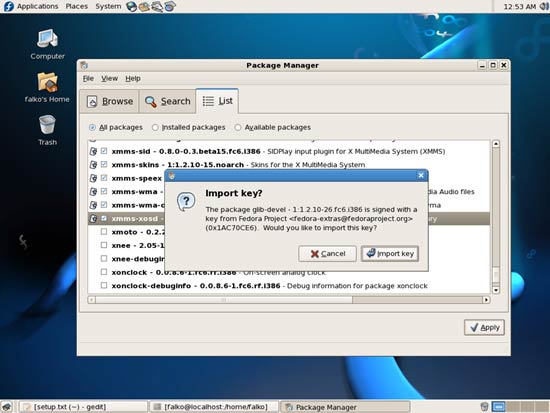 The chosen packages are installed: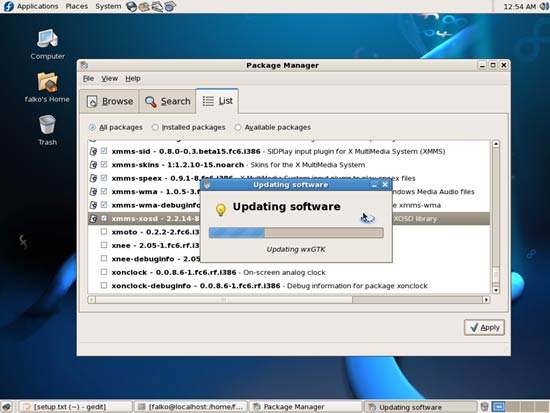 Click on OK to finish the software installation: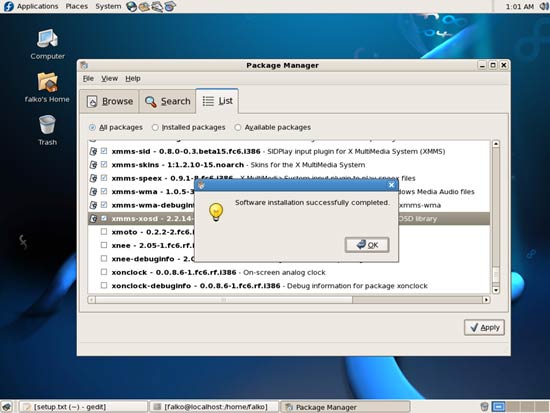 8 Inventory (II)
Now let's check again what we have so far by browsing the menus again:
Our inventory should now look like this:
Graphics:
[x] The GIMP
[x] F-Spot
[ ] Picasa
Internet:
[x] Firefox
[ ] Opera
[x] Flash Player
[x] gFTP
[x] Thunderbird
[x] Evolution
[x] aMule
[x] Bittorrent
[x] Azureus
[x] Gaim
[ ] Skype
[ ] Google Earth
[x] Xchat IRC
Office:
[x] OpenOffice Writer
[x] OpenOffice Calc
[ ] Adobe Reader
[x] GnuCash
[x] Scribus
Sound & Video:
[x] Amarok
[x] Audacity
[x] Banshee
[x] MPlayer
[x] Rhythmbox Music Player
[x] gtkPod
[x] XMMS
[x] dvd::rip
[x] Kino
[x] Sound Juicer CD Extractor
[x] VLC Media Player
[ ] Real Player
[x] Totem
[x] Xine
[x] GnomeBaker
[x] K3B
[ ] Multimedia-Codecs
Programming:
[ ] Nvu
[x] Bluefish
[x] Quanta Plus
Other:
[ ] VMware Server
[ ] TrueType fonts
[x] Java
One of the packages we've just installed is the Flash Player 9 for Linux. To see if it works in our Firefox browser, open Firefox and type in
about:plugins
in the address bar. In the page that loads you should see that Flash is listed: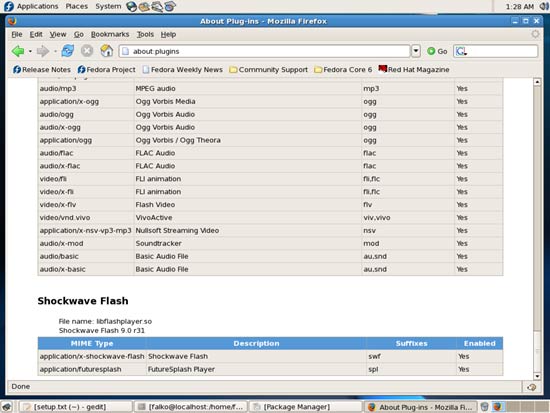 You can now open a web site of which you know that it uses Flash. For example, www.spiegel.de has video news in Flash. You should be able to see (and hear) the Flash movies:
Another web site that uses Flash movies is YouTube, for example.
A few applications are still missing, so let's install them now.