How to connect ONLYOFFICE online editors to OwnCloud
OwnCloud offers you the ability to run a cloud storage service that you administer and control yourself. From now on you can edit and collaborate on text documents, spreadsheets, and presentations stored on your OwnCloud storage using the full-featured online editors from ONLYOFFICE.
This tutorial describes how to connect ONLYOFFICE document editors with an OwnCloud server by using the OwnCloud ONLYOFFICE integration app.
1. Required packages
You will need
OwnCloud version 9.0.3 or later.
To install it, follow the instructions here.
ONLYOFFICE Document Server version 3.0 or later.
This tutorial will help you install it.
OwnCloud ONLYOFFICE integration app.
You can download it from the ownCloud app collection.
2. Enabling OwnCloud ONLYOFFICE integration app
Place OwnCloud ONLYOFFICE integration app into the /apps directory on your OwnCloud server:
cd apps/ git clone https://github.com/ONLYOFFICE/onlyoffice-owncloud.git onlyoffice
Go to OwnCloud, open the page with Not enabled apps and click Enable for the ONLYOFFICE application.
3. Configuring OwnCloud ONLYOFFICE integration app
Go to the OwnCloud Admin panel, open the ONLYOFFICE section and enter the address of the server where the ONLYOFFICE Document Server is installed:
https://<documentserver>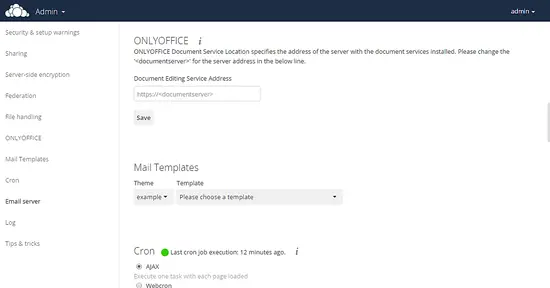 4. Start editing documents
To edit your document, just select the Open in ONLYOFFICE option from the menu for the corresponding document.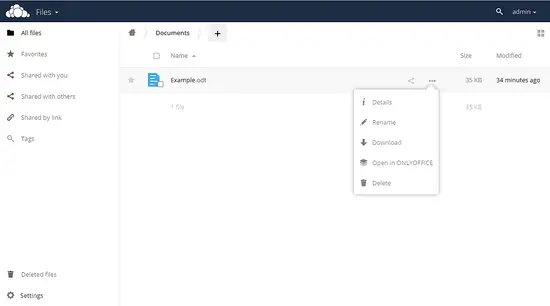 Links