How To Install The Zimbra Desktop Email Client On Ubuntu 8.04 LTS (Hardy Heron)
Version 1.0
Author: Falko Timme

This article shows how you can install the Zimbra Desktop email client on an Ubuntu 8.04 LTS (Hardy Heron) desktop. Zimbra Desktop is a full-fledged replacement for email clients such as Outlook or Evolution, offering email, contacts, calendar, documents, tasks, etc. You can use it in conjunction with the Zimbra Collaboration Suite (ZCS) or any other email account that supports POP3 or IMAP.
You can find the full feature list here: http://www.zimbra.com/products/desktop_features.html
I do not issue any guarantee that this will work for you!
1 Installing Zimbra Desktop
Go to http://www.zimbra.com/products/desktop_download.html and click on the Linux download link: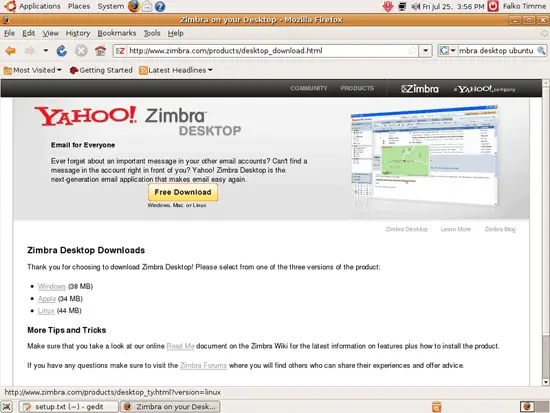 In the Firefox download dialogue, select Save File and save the file somewhere on your hard drive (e.g. your desktop - my desktop folder is /home/falko/Desktop):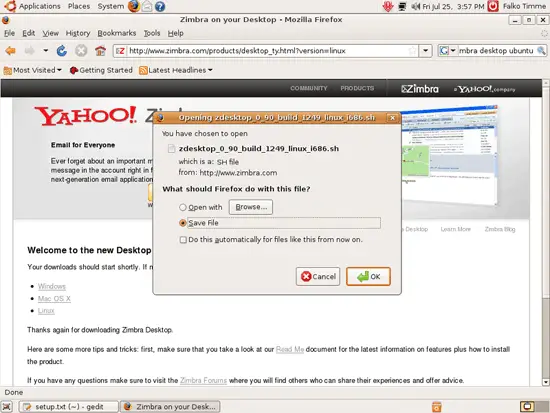 Zimbra Desktop is being downloaded: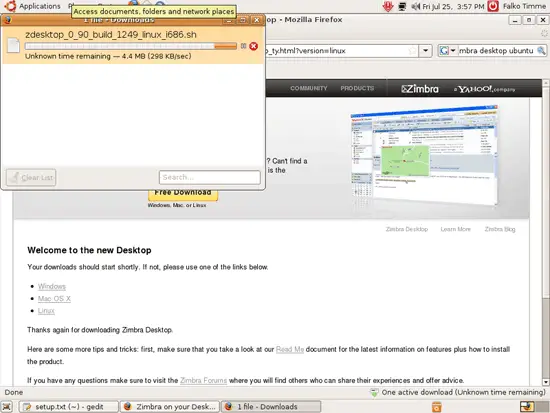 After the download has finished, open a terminal (Applications > Accessories > Terminal):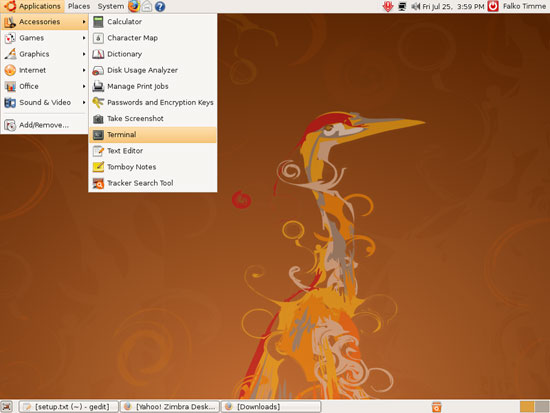 (The following commands must be executed as a normal user, so please make sure you're not looged in as root!)
Go to the folder where you've stored the Zimbra file (e.g. your desktop):
cd ~/Desktop/
Run
ls -l
to find out how the Zimbra file is named:
falko@falko-desktop:~/Desktop$ ls -l
total 50096
-rw-r--r-- 1 falko falko 51237055 2008-07-25 15:59 zdesktop_0_90_build_1249_linux_i686.sh
falko@falko-desktop:~/Desktop$
As you see, the file is called zdesktop_0_90_build_1249_linux_i686.sh in my case (the file name will change as new releases are published so please make sure you're using your filename and not the one from this tutorial!).
Next, make the file executable:
chmod 755 zdesktop_0_90_build_1249_linux_i686.sh
Then start the installation:
./zdesktop_0_90_build_1249_linux_i686.sh
The installation wizard comes up. Select your language: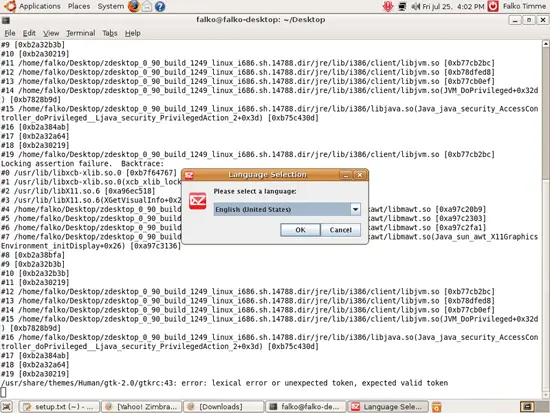 Click on Next...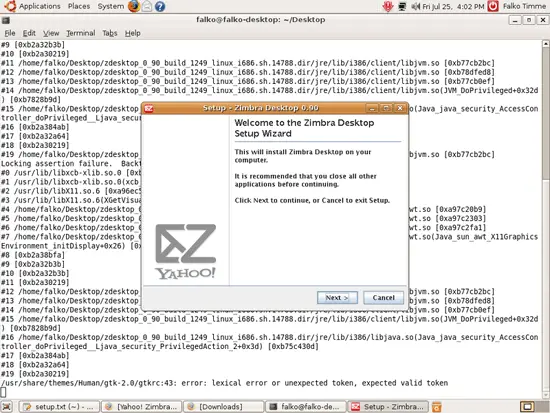 ... and accept the Zimbra Desktop license: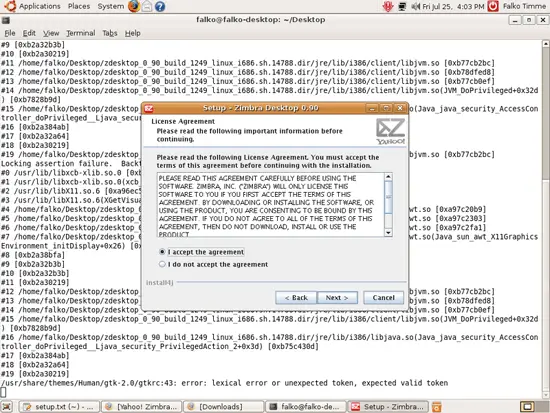 Click on Next to start the installation: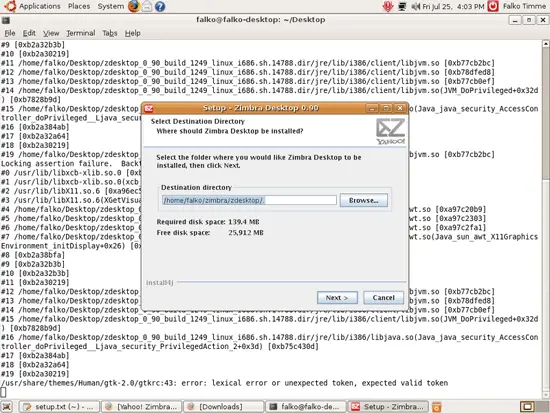 Zimbra Desktop is being copied to your hard drive: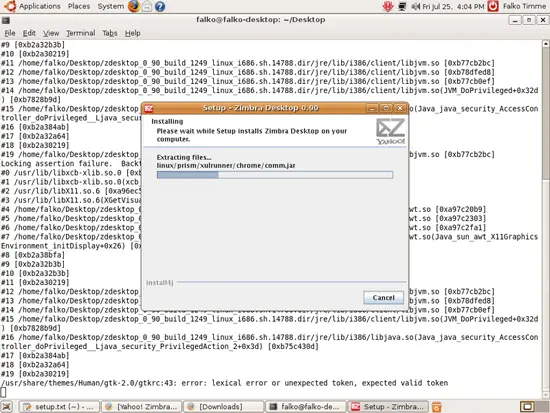 I strongly recommend to select Create a desktop icon because the installer does not create a launcher in the menu: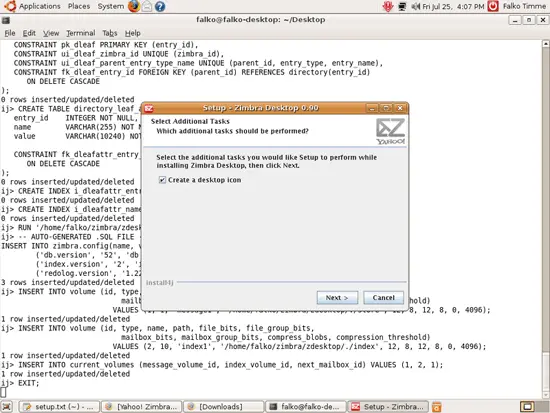 The installation continues: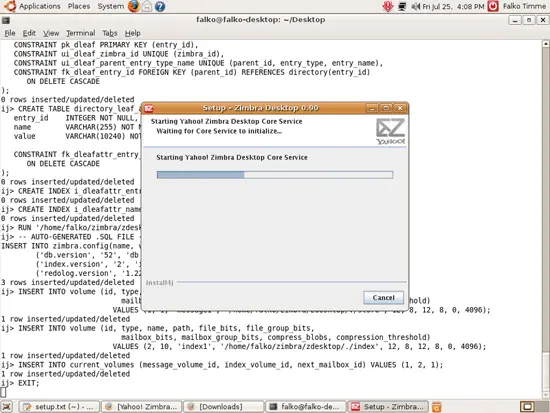 Click on Finish to leave the installation wizard. You can select Launch Yahoo! Zimbra Desktop to directly start Zimbra Desktop...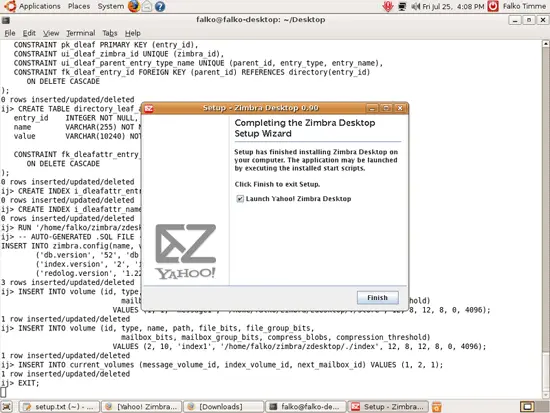 ... or you start it manually later on by double-clicking the Zimbra desktop icon:
After the successful installation, you can delete the downloaded Zimbra installer (in the terminal):
rm -f zdesktop_0_90_build_1249_linux_i686.sh
You can now close the terminal.