VMware Workstation On OpenSuse 10.2 - Page 2
Step 4
Download the VMware file to the OpenSuSE PC. If it was downloaded to another PC use a tool like WinSCP to copy it over. Or if you got a local web server copy the file over to it and wget address/filename.

In the screen shots you will see both methods.
WinSCP
Log in as root user on the OpenSuSE box, then find your way to the /tmp folder. Then click and drag the file Vmware-workstation-XXXXXXXXXXXX.rpm to the WinSCP window. Let go and click on copy when its comes up. Once done in the PuTTY window or the terminal type in as root user:
cd /tmp 
Then go to step 5.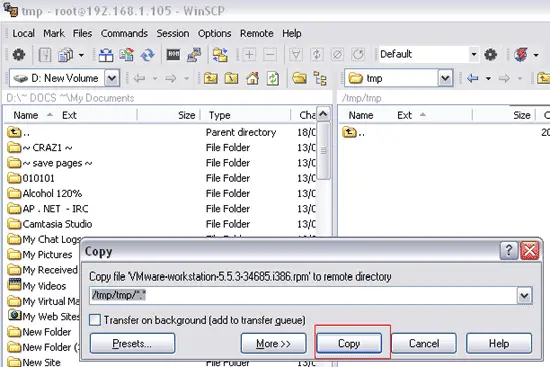 Download With wget (From Local Web Server)
In PuTTY type:
cd /tmp
wget http://pc2.lan:88/linux.appz/Vmware-workstation-5.5.3-34682.i386.rpm
( Note: that's my privte LAN address to a pc where I keep a lot of my Linux files.)
Replace the info that needs to be replaced with the right info for your setup.
Step5: VMware Install
The easy step: make sure you are in the same folder where you copied the vmware-workstation RPM file to. :)
rpm -i Vmware-workstation-5.5.3-34685.i386.rpm
Step 6

Step 6.1
*** push enter: than at the end of it to get out of the EULA push q ****
        * it took me a while to work it out myself *

Push q to get out of it. :)