The Perfect Desktop - OpenSUSE 12.2 (GNOME Desktop) - Page 5
This tutorial exists for these OS versions
On this page
9 Skype (only for 32 bit systems)
To download Skype, go to http://www.skype.com/intl/en-gb/get-skype/on-your-computer/linux, and hover the mouse over the Download now button. Select the appropriate download link from the menu: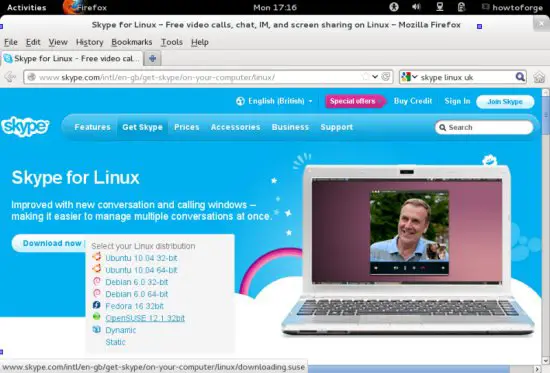 In the Firefox download dialogue, select Open with Install/Remove Software (default):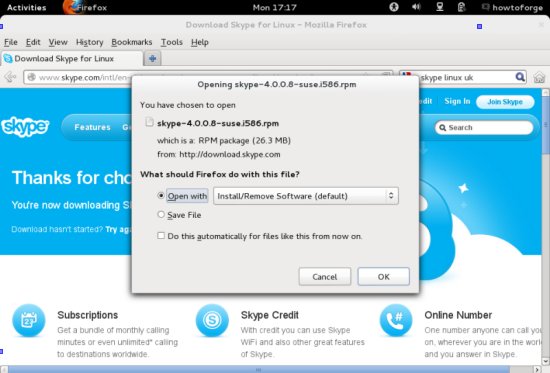 Click on Install: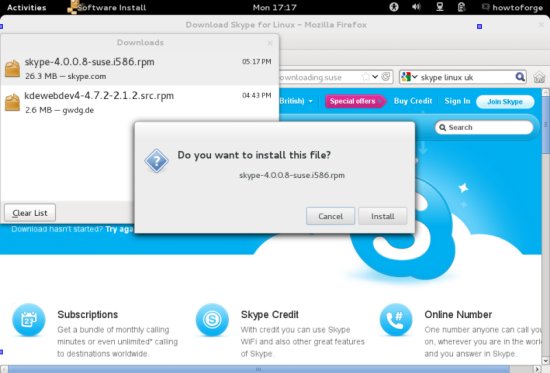 Follow the installation instructions afterwards, you will need to type in the root password. Afterwards, the package gets installed.
10 Google Earth
To install Google Earth open a web browser and go to http://www.google.com/earth/download/ge/agree.html, choose the rpm package for the system you are using and click on Agree and Download: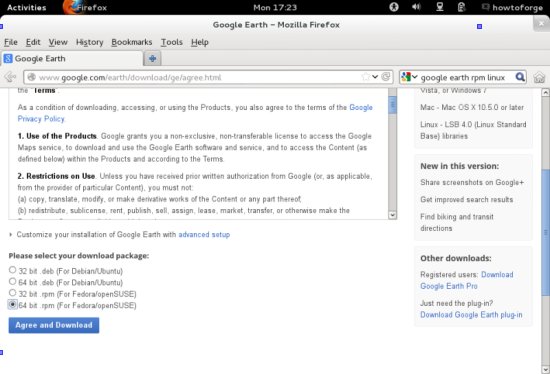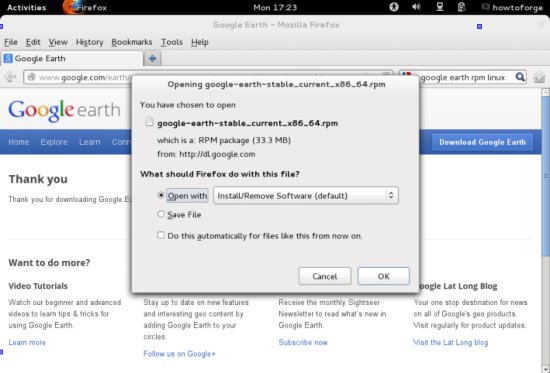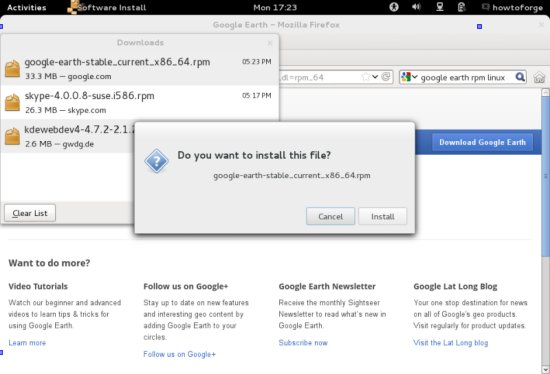 11 Inventory (III)
We have now all wanted applications installed:
Graphics:
[x] The GIMP
[x] Shotwell Photo Manager
[x] Pinta
Internet:
[x] Firefox
[x] FileZilla
[x] Thunderbird
[x] Deluge
[x] Skype
[x] Marble
[x] Pidgin
[x] Dropbox
[x] Gwibber Social Client
Office:
[x] LibreOffice Writer
[x] LibreOffice Calc
[x] Adobe Reader
[x] GnuCash
[x] Scribus
Sound & Video:
[x] Audacity
[x] Banshee
[x] dvd::rip
[x] Kino
[x] VLC Media Player
[x] K3B
[x] Multimedia-Codecs
[x] Winff
Programming:
[x] Bluefish
[x] Eclipse
Other:
[x] VirtualBox
[x] TrueType fonts
[x] Java
[x] gedit
12 Links