Sound Recording and Editing with Audacity on Ubuntu
In all the years I have been dealing with both Linux and sound recordings, I have never found a simplest and more powerful tool than Audacity to get the job done. This open source sound recorder, editor, analyzer, generator and effect applicator is surely one of the most useful and important tools ever to be produced by the free software community.
Although there are other open source choices like the professional-grade Ardour and the amazing Qtractor, Audacity remains the simplest to use in almost any use case scenario of the every day modern Linux user, supports almost every popular sound format there is, and finally is multi-platform (Win, Mac, Linux) so it stays handy if you are changing machines (studio, home, work etc).
Installation
To install Audacity on Ubuntu, run the following command on the shell:
sudo apt-get install 

audacity
or use the Ubuntu software center to install the "audacity" package. Then go to Applications > Sound & Video > Audacity to start Audacity.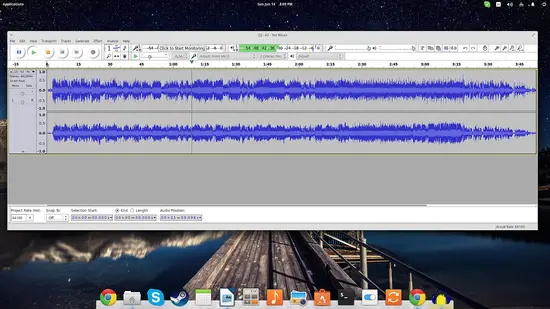 Audacity's main window. The sound is clearly depicted in the scrollable and also zoomable graph.
Edit and Record Sounds with Audacity
Ok so what can you do with it? First of all you can use it to record anything on your desktop/laptop using your webcam or microphone in both mono and stereo (and even more channels if you like). The options for this are available in the centre of the main window, above the sound graph. The recording volume can be monitored by the level bars during the recording to achieve better results and Audacity also supports rec via Jack for low latency recording.
Besides that, you can import an existing file for editing purposes through the "File/Open" options menu or "File/Import" for raw sound and MIDI files. You can edit WAV, AIFF, FLAC, MP2, MP3 or Ogg Vorbis sound files and the editing possibilities include cutting and pasting of parts, split or mixing of multiple tracks. Whatever you do, Audacity offers an unlimited number of undoing steps so there are no worries when mistakes are made during the editing phase. For higher accuracy during the process, you can zoom deeper and enter a scale of seconds or even milliseconds if needed. You can zoom from the "View" menu located on the top panel, or by pressing ctrl+1 (zoom in) and ctrl+2 (zoom out). To edit a part, you simply select it with the mouse and then use the "Edit" menu (for cutting, deleting, copying and duplicating.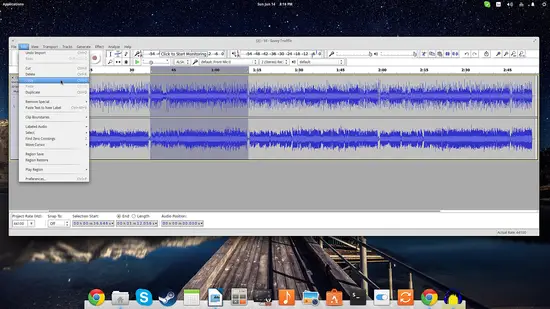 The software can also perform automated detection of silences and extract the identified parts accordingly, and even find a particular beat or a specific sound contained in a large file. That could prove very handy in some circumstances like the editing of interviews, speech events and even podcasts.
Another cool feature is Audacity's set of effects that can be used in a whole lot of situations. Under the "Effects" menu, you can find fading, inversion, normalization, reverb, wah-wah and even a smart noise removal tool. Under the same category you will also find a set of plugins that add more filters and effects to the software's rich collection.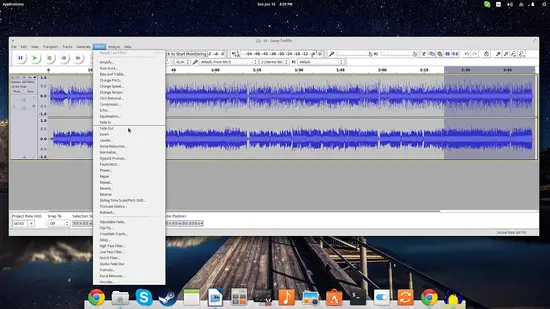 You just choose the part of the audio that you want the filter to be applied on and then choose the filter.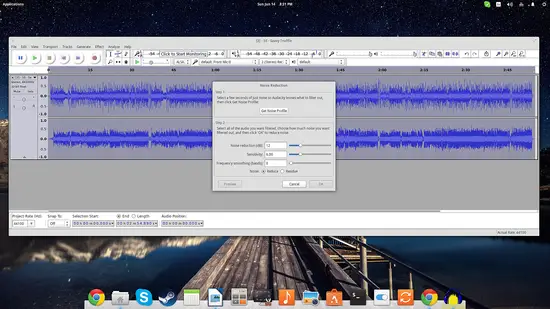 Audacity is also a capable sound generator that features many options like a chord pluck, tone generation (of configurable frequency), silence, risset drum and chirp. All these can be useful when in need to create some distinct chapter changing points, insert silence for a message, or declare the end or the beginning of a recording.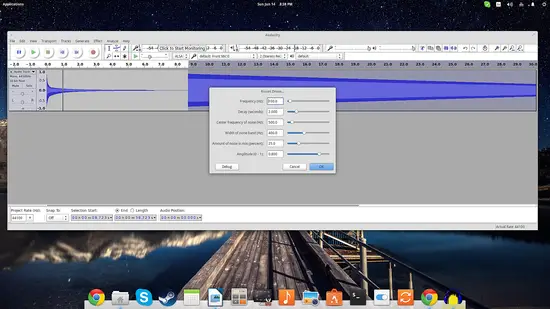 There is also a "remove vocals" option found under the "Effects" menu that people may use to prepare for a karaoke party at home, but the tracks that are imported for that purpose should be of very good quality and in stereo, and even then sometimes the result is not very good.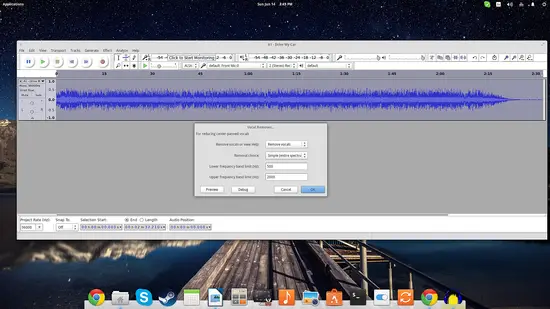 Speaking of not very good, if there's one thing I find that needs urgent improvement is the graphical user interface that Audacity uses. It really makes an otherwise cool application look heavily outdated and bloated. The wxWidgets GUI library works seamlessly for the application, but it really looks bad to my eyes at least.
In the end of the day, Audacity is the tool that will save you tons of time and effort to apply that obscure filter, or that common effect that you need for your recording to sound right. It may not provide settings and options for every tool the users can use, but it will serve most cases fast and without a glitch. I always keep it handy in all my systems, and it never really proved insufficient for my needs.