Running TYPO3 4.6 On Nginx (LEMP) On Debian Squeeze/Ubuntu 11.10 - Page 2
Next provide a password for the TYPO3 admin user (username: admin) and pick a colour scheme for the demo website (if you have chosen to install it). Click on Continue afterwards: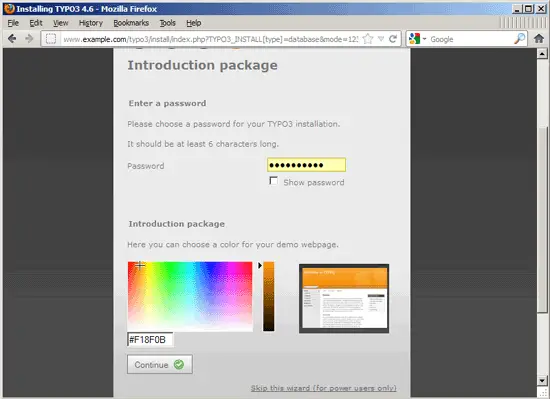 The installation is now finished, and you can click on the Go to your Website button to browse the demo website (or simply go to http://www.example.com):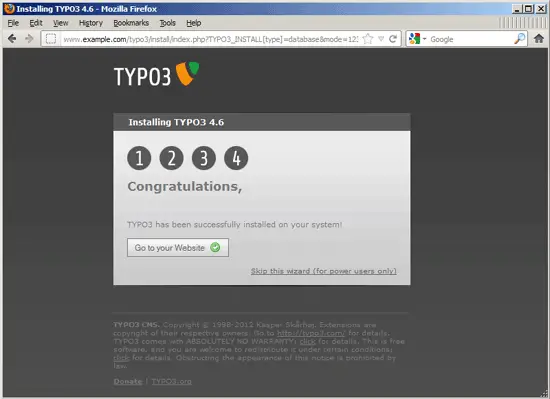 This is the demo website. If you browse it, you will notice that clean URLs work by default: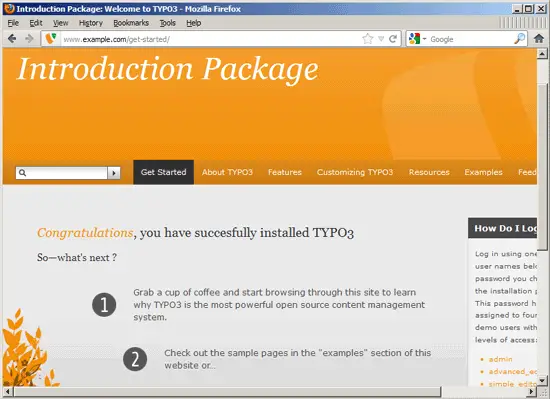 The admin area can be found under http://www.example.com/typo3/. Log in with the username admin and the password you defined during installation: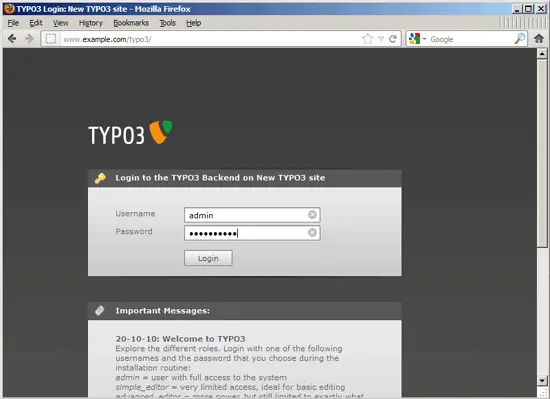 This is how the TYPO3 admin area looks: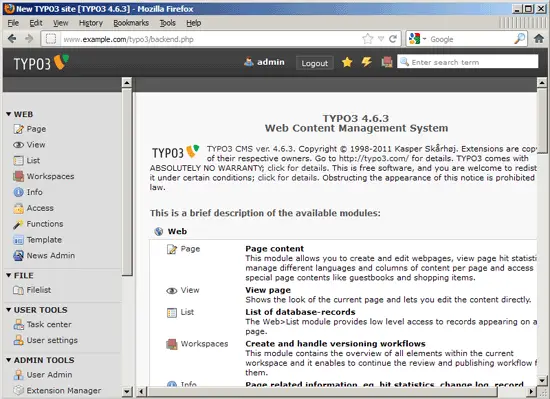 4 Installing The Static File Cache Extension (nc_staticfilecache)
To install the Static File Cache Extension, go to http://typo3.org/extensions/repository/view/nc_staticfilecache/current/ and download the extension to your local computer (at the time of this writing, the direct download link is http://typo3.org/fileadmin/ter/n/c/nc_staticfilecache_2.3.4.t3x).
In TYPO3, go to ADMIN TOOLS > Extension Manager. There go to the Import Extensions tab and click on the upload icon right of the Filter field and left of the Repository field (the icon shows a document with a green arrow showing upwards). An upload dialogue appears. Select the Static File Cache extension from your local computer's hard drive and click on the Upload extension from your computer button: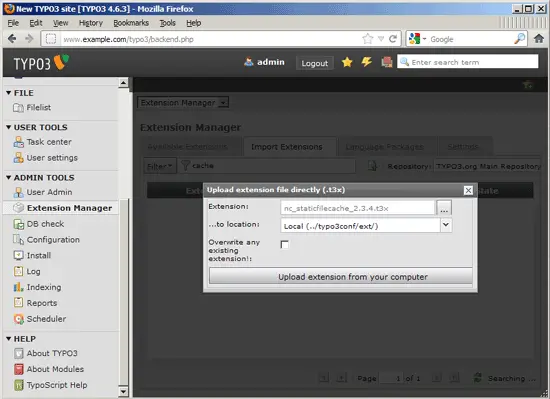 The extension is now uploaded, but still has to be activated. To do so, click on the grey icon that looks like a Lego brick and shows a plus sign: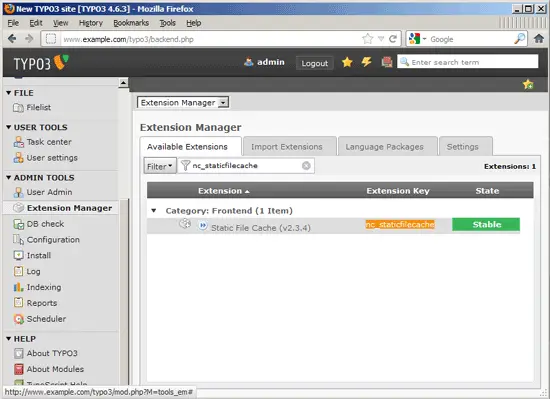 To activate the extension, a few database updates are necessary. Click on Make updates to accept them: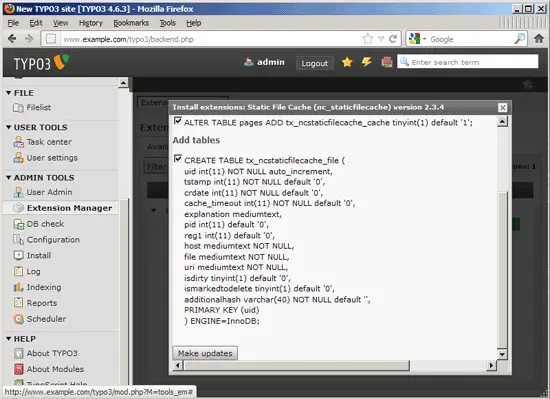 Afterwards, click on the Close window. link to close the Install extensions layer: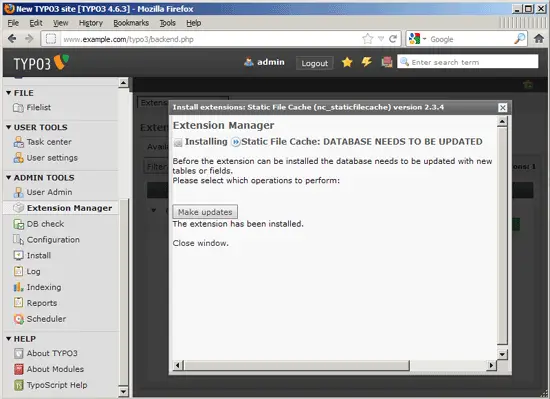 The Static File Cache extension should now be listed as active on the Available Extensions tab. To configure it, click on it (don't click on the green Lego brick icon showing a minus as that will deactivate the extension!):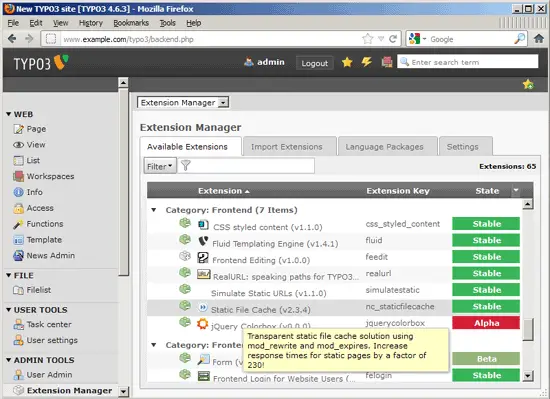 On the Configuration tab you can now configure the behaviour of the Static File Cache extension. Usually, the default settings should be ok: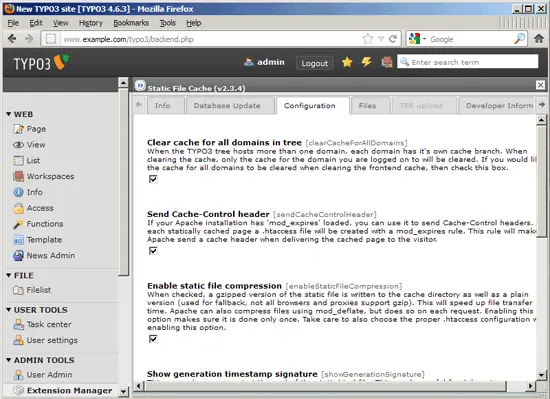 The documentation of the Static File Cache extension is available under http://typo3.org/documentation/document-library/extension-manuals/nc_staticfilecache/2.3.4/view/.
5 Links
About The Author

Falko Timme is the owner of

Timme Hosting (ultra-fast nginx web hosting). He is the lead maintainer of HowtoForge (since 2005) and one of the core developers of ISPConfig (since 2000). He has also contributed to the O'Reilly book "Linux System Administration".