How To Install OpenOffice.org 3.0.0 On Ubuntu 8.04
Version 1.0
Author: Falko Timme

This guide shows how you can install the new OpenOffice 3.0.0 office suite on your Ubuntu 8.04 desktop. Your current OpenOffice installation will not be removed unless you uninstall it with Synaptic or on the command line, so you can run both versions in parallel if you like.
I do not issue any guarantee that this will work for you!
1 Installing OpenOffice 3.0.0
Visit http://www.openoffice.org/ and go to the download section; select the Linux DEB download for your language...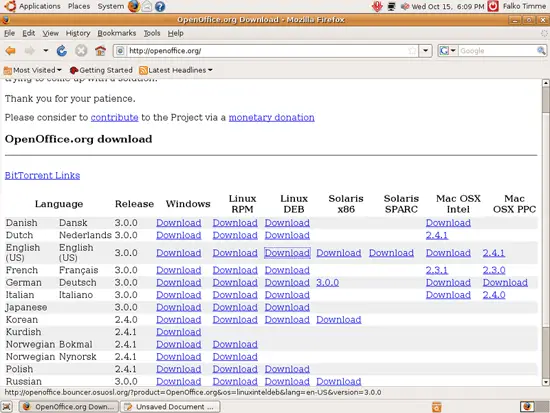 ... and save it to your hard drive (e.g. on the desktop):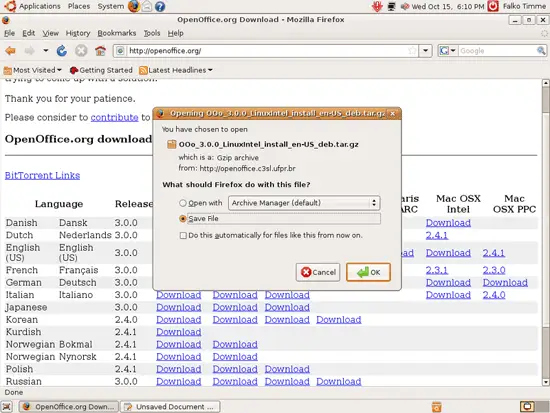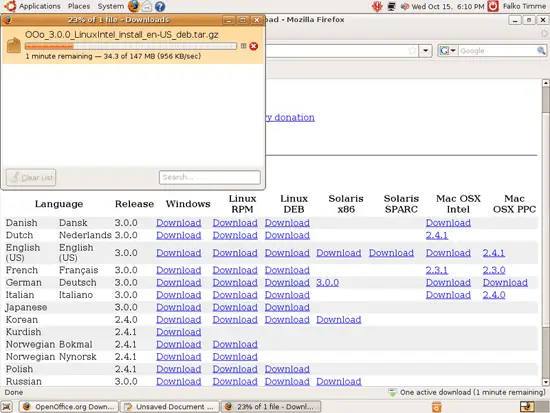 After the download has finished, open a terminal (Applications > Accessories > Terminal)...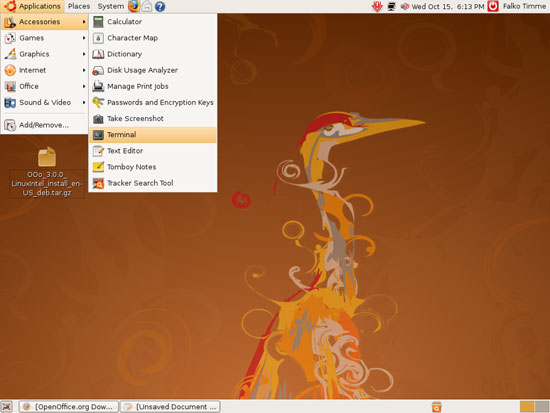 ... and go to the directory where you've saved OpenOffice 3.0 (I've saved it on my desktop, /home/falko/Desktop/):
cd /home/falko/Desktop/
Uncompress the archive...
tar xvfz OOo_3.0.0_LinuxIntel_install_en-US_deb.tar.gz
... and go to the directory that contains all the .deb packages...
cd OOO300_m9_native_packed-1_en-US.9358/DEBS/
... and install them with one single command:
sudo dpkg -i *.deb
---
If you have decided to uninstall Ubuntu's OpenOffice package (using Synaptic or the command line), you can also install the OpenOffice 3.0.0 desktop integration package (it contains launchers, etc.) as follows:
cd desktop-integration/
sudo dpkg -i openoffice.org3.0-debian-menus_3.0-9354_all.deb
This works only if you have previously uninstalled Ubuntu's OpenOffice package (don't do this if you want to run Ubuntu's OpenOffice and OpenOffice 3.0.0 in parallel)! If you have not, you will see the following error:
falko@falko-desktop:~/Desktop/OOO300_m9_native_packed-1_en-US.9358/DEBS/desktop-integration$ sudo dpkg -i openoffice.org3.0-debian-menus_3.0-9354_all.deb
[sudo] password for falko:
Selecting previously deselected package openoffice.org-debian-menus.
dpkg: regarding openoffice.org3.0-debian-menus_3.0-9354_all.deb containing openoffice.org-debian-menus:
openoffice.org-core conflicts with openoffice.org-unbundled
openoffice.org-debian-menus provides openoffice.org-unbundled and is to be installed.
dpkg: error processing openoffice.org3.0-debian-menus_3.0-9354_all.deb (--install):
conflicting packages - not installing openoffice.org-debian-menus
Errors were encountered while processing:
openoffice.org3.0-debian-menus_3.0-9354_all.deb
falko@falko-desktop:~/Desktop/OOO300_m9_native_packed-1_en-US.9358/DEBS/desktop-integration$
After you've successfully installed the desktop integration package, you can find OpenOffice 3.0.0 launchers under Applications > Office: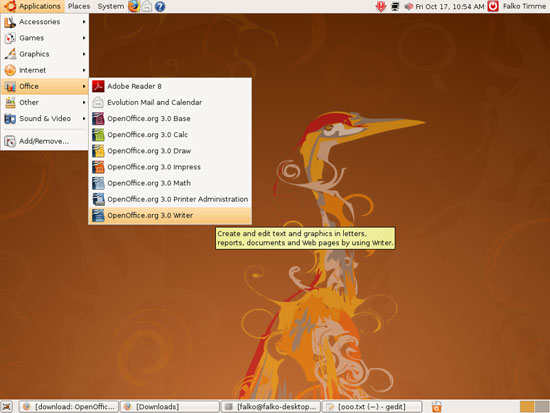 ---
After the installation has finished, you can delete the downloaded archive and the OpenOffice directory:
cd ../../
rm -fr OOO300_m9_native_packed-1_en-US.9358 OOo_3.0.0_LinuxIntel_install_en-US_deb.tar.gz
2 Creating A Launcher
(This is necessary only if you want to run Ubuntu's OpenOffice package and OpenOffice 3.0.0 in parallel and therefore could not install the OpenOffice desktop integration package!)
Unfortunately, the installation hasn't created a launcher for OpenOffice 3.0.0 in our menus (the launcher that you see under Applications > Office is still for your old OpenOffice version), therefore we have to create it manually. Right-click on Applications and select Edit Menus: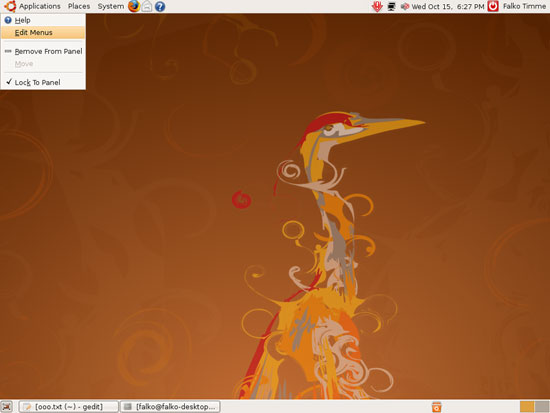 Select the Office category and click on New Item: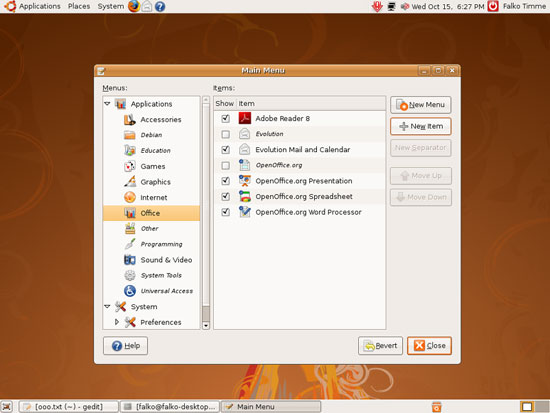 Fill in a name for the launcher (e.g. OpenOffice 3.0.0 Writer) and then click on the Browse button to find the OpenOffice 3.0.0 executable: