How To Install Zimbra Collaboration Suite (ZCS) On Ubuntu - Page 3
Coders gonna code. Start a free trial of Bitbucket Server and get your shirt.
4 The Zimbra Web Interface
Zimbra comes with a web interface for the administrator (https://mail.example.com:7071/zimbraAdmin) and normal users (http://mail.example.com). I'm going to show some basic screenshots here, but no help on how to use Zimbra. To learn how to use Zimbra, please refer to http://www.zimbra.com/community/documentation.html and http://wiki.zimbra.com.
4.1 The Administration Console
You can now open a browser and open the Zimbra Administrator web interface. The URL is https://mail.example.com:7071/zimbraAdmin. Log in with the username admin and the password you specified during the Zimbra installation: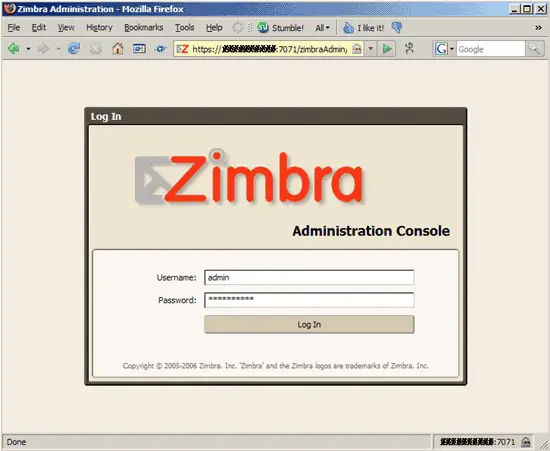 This is how the admin panel looks like: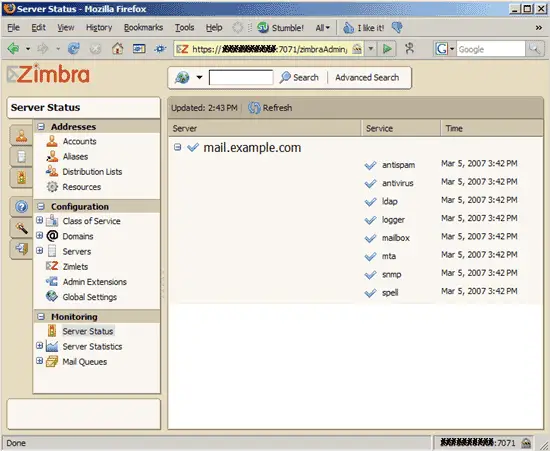 You can find all pre-configured email addresses under Accounts: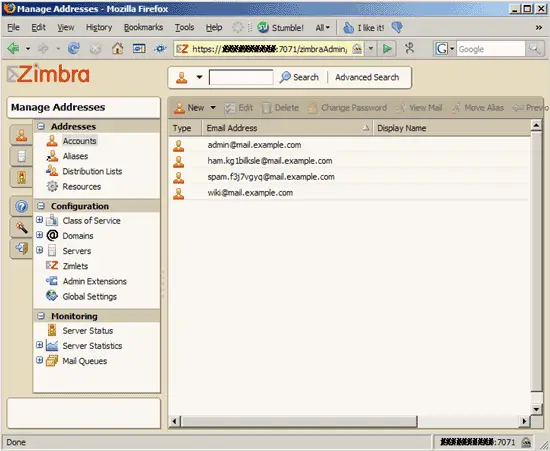 If you want to add a new domain (e.g. example.com because you want email addresses of the form [email protected] instead of [email protected]), click on Domains and then on New: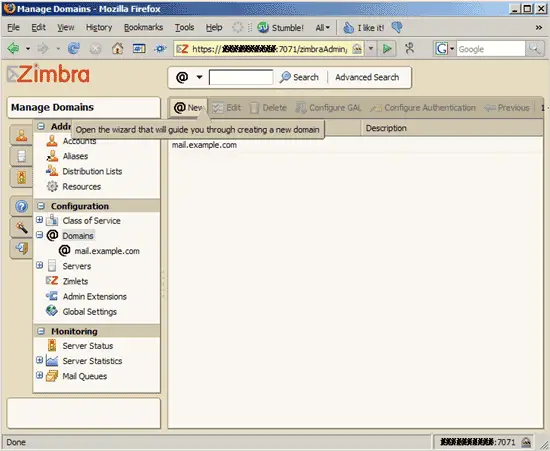 Create example.com: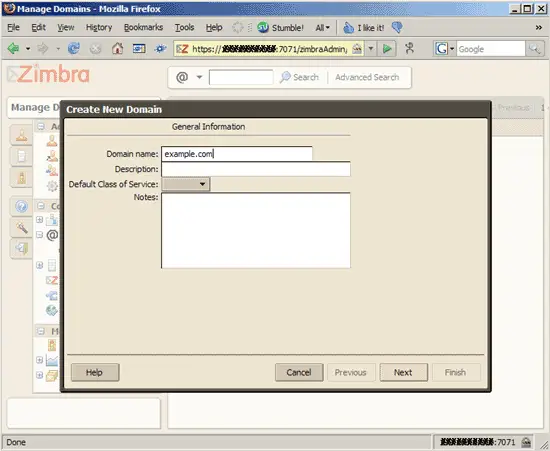 Afterwards, example.com is listed in the domains list: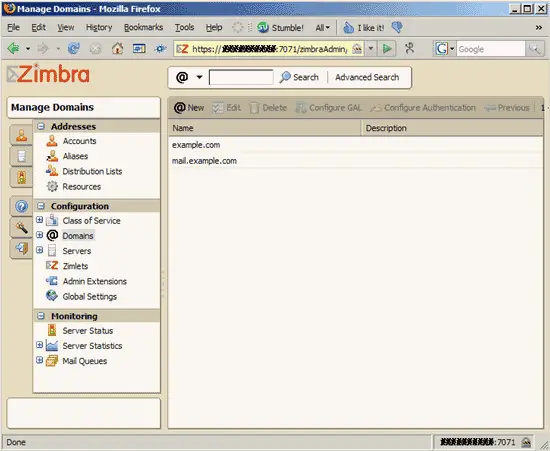 To create a new user, go to Accounts and click on New: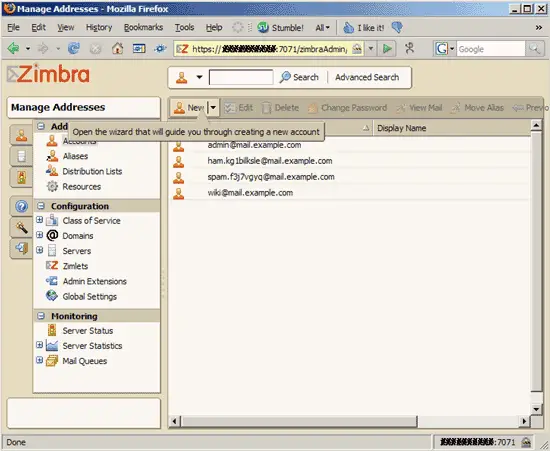 Follow the wizard to create a new email account. Take care that you select the right domain (example.com vs. mail.example.com):
Afterwards, mark the new account in the accounts list and click on Edit: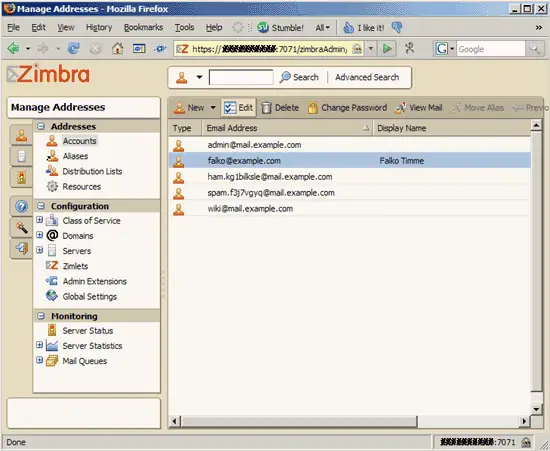 Specify a password for the new account on the General Information tab and click on Save: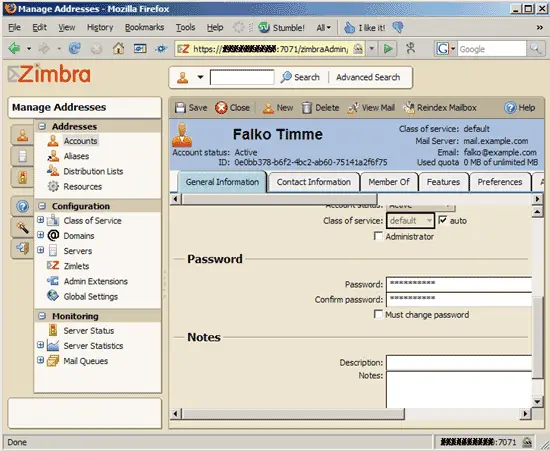 4.2 The User Webinterface
Now that you've created a normal user account, you can log out of the admin panel and go to http://mail.example.com. Log in with the email address and the password of the new account: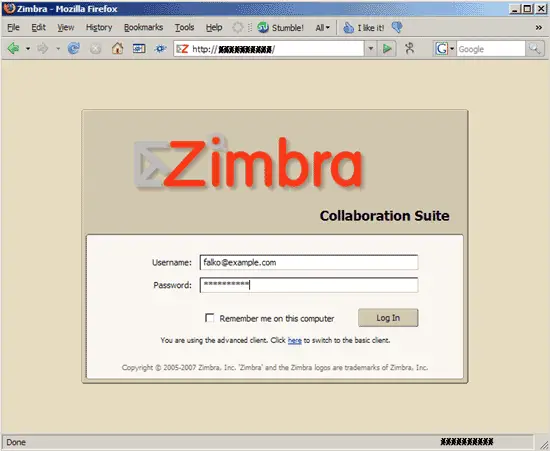 This is how the user webinterface looks like. You have tabs to manage your emails, address book, calendar, documents, etc.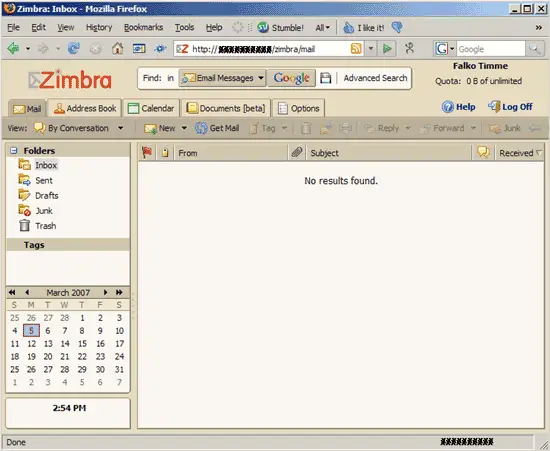 5 Uninstall Zimbra
If you want to uninstall Zimbra, do it like this:
Go the the Zimbra installation directory (I hope you didn't delete it):
cd /usr/src/zcs
Then run
./install.sh -u
and delete the Zimbra installation directory afterwards:
cd /usr/src
rm -rf zcs
6 Links
Sub pages