How To Upgrade VMware ESXi 3.5 To 4.1 Update 1 (Free Version)
In this guide I will show you how to upgrade VMWare ESXi 3.5 to ESXi 4.1 Update 1 (Free Version) without going through the pain of reinstalling your host server and then restoring your VMs.
I was looking around for quite some time in regards to how to upgrade an ESXi 3.5 host to version 4.1 U1, and I could only find bits and pieces of information on upgrading ESX to version 4.0 or ESXi 4.0 to version 4.1, it was actually quite difficult to find any information on upgrading the free version of ESXi to the most recent release. So after some research and trail and error I finally managed a successful upgrade and to try and help people in the future that might want to do the same thing I wrote this guide.
Requirements
Before we start the upgrade process there are a few requirements we need to meet first
First of all we need to download the update files on to your computer, to do this go to the VMware website http://www.vmware.com and go to the Support & Downloads area, locate VMware ESXi (you will have to register with VMware if you have not done so already), from here you will be able to download the full isos or incremental update files.
The two files you will need are labeled:
Upgrade package from ESXi Server 3.5 to ESXi Server 4.0 Update 1
ESXi 4.1 Update 1 (upgrade ZIP from ESXi 4.0)
You will also have to go to the Drivers & Tools section and download the VMware vSphere CLI 4.0.
NOTE
If you are using Windows 7 as your OS on the computer that you're preforming the upgrade on there is an extra step that you will need to take as you will run into issues during the upgrade process. To get around this, use a VM application (VMware Workstation, VMware Server (Free), Oracle Virtualbox (Free)) and build a VM that can access the network that your ESXi Host is on, and make sure the OS is Windows XP SP2 or Windows Server 2003 SP2, and install the VMware vSphere Client v4.0 with Host Update Utility. You can get the client from another ESXi 4.1 Host or go to the VMware Website and get it from the Download Trial Software area. After that copy the 3.5 -> 4.0 Upgrade file to the VM.
Upgrade ESXi 3.5 To 4.0
The first thing you must do is prepare your ESXi host for the upgrade, open up your VMware ESX Client and log onto your host server, shut down all your virtual machines. Then place your host into maintenance mode by right-clicking on your host and selecting Enter Maintenance Mode, after it has entered maintenance mode you then want to close down the client.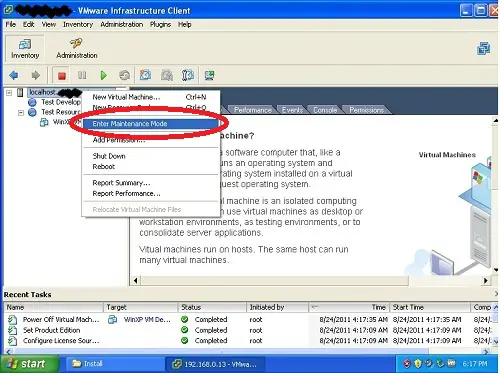 Next open up the vSphere Host Update Utility, the first thing the application wants to do is download patches from VMware, click "yes" and allow it to download the information. Once the upgrade is done you will see the following screen below.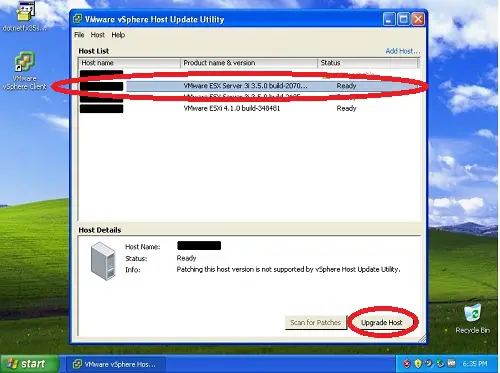 Select the host you wish to upgrade and click on Upgrade Host button, a window will appear prompting for an upgrade package, browse to the location of the 3.5 -> 4.0 upgrade package, the upgrade package will be validated then you will have to agree to VMware's terms and conditions before you can proceed with the upgrade.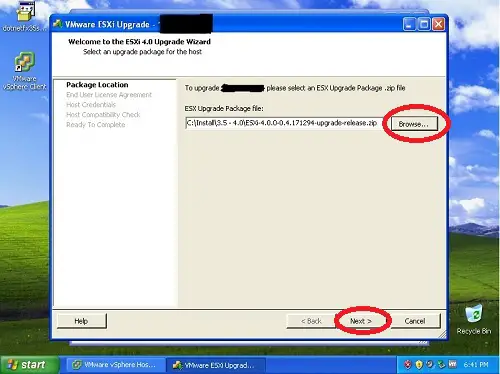 Next you will have to enter your hosts credentials, by default it puts "Root" in as user name, it's best to use this account for the upgrade, so there are no issues with a user having the correct permissions. After you press Next the update utility runs a compatibility check on the host to make sure that you are currently running an older version of ESXi and that the upgrade is correct for your host server. Once this is done you're shown a summary of the information. Press Finish to perform the upgrade.
You will see an upgrade progress screen appear which will show you the steps the server is taking during the upgrade.