How to install OpenLDAP Server on Debian or Ubuntu
Version 1.0
Author: Srijan Kishore <s [dot] kishore [at] ispconfig [dot] org>


Follow howtoforge on Twitter
Last edited 01/Oct/2014
This document describes how to install and configure OpenLDAP in Debian/Ubuntu Server. I will use OpenLDAP to configure a corporate organizational structure through OpenLDAP.
LDAP stands for Lightweight Directory Access Protocol. As the name suggests, it is a lightweight protocol for accessing directory services, specifically X.500-based directory services. LDAP runs over TCP/IP or other connection oriented transfer services. The nitty-gritty details of LDAP are defined in RFC2251 "The Lightweight Directory Access Protocol (v3)" and other documents comprising the technical specification RFC3377

LDAP is a platform-independent protocol. Several common Linux distributions include OpenLDAP Software for LDAP support. The software also runs on BSD-variants, as well as AIX, Android, HP-UX, Mac OS X, Solaris, Microsoft Windows (NT and derivatives, e.g. 2000, XP, Vista, Windows 7, etc.), and z/OS.


This guide will work both in Debian/Ubuntu server. I do not issue any guarantee that this will work for you!
1 Preliminary Note
This tutorial is based on Debian 7.6 server, so you should set up a basic Debian 7.6 server installation before you continue with this tutorial. The system should have a static IP address. I use 192.168.0.100 as my IP address in this tutorial and server1.example.com as the hostname. I am using root credentials for installations, you can use sudo before the commands if you are installing it without root.
Note:The guide can be used for both Ubuntu/Debian server.
2 Install OpenLDAP
2.1 OpenLDAP installation
We will install OpenLDAP as follows:
apt-get update  
apt-get install slapd ldap-utils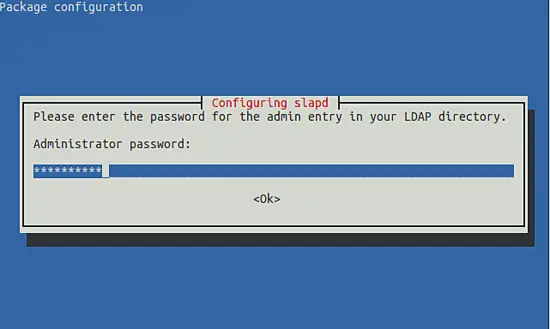 Put the password and press

OK

. I am using password

howtoforge

, input your desired password.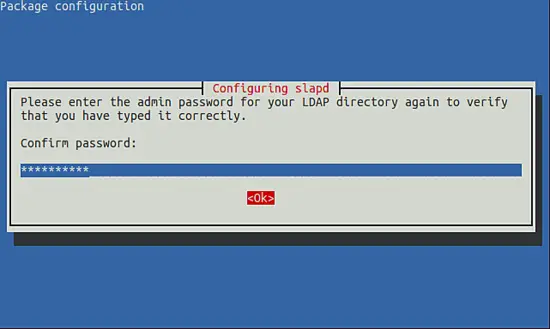 Confirm the password and press

OK

.


2.2 OpenLDAP Configuration
Now we will edit the configuration file to make the OpenLDAP server according to our environment.

nano /etc/ldap/ldap.conf

Give the entries as follows:

#
# LDAP Defaults
#

# See ldap.conf(5) for details
# This file should be world readable but not world writable.

BASE    dc=

example

,dc=

com


URI     ldap://192.168.0.100 ldap://192.168.0.100:666

#SIZELIMIT      12
#TIMELIMIT      15
#DEREF          never

# TLS certificates (needed for GnuTLS)
TLS_CACERT      /etc/ssl/certs/ca-certificates.crt




Note in my case hostname was server1.example.com so my dc=example and dc=com

Save the file and run the following command to reconfigure the LDAP package.

dpkg-reconfigure slapd


It will ask some questionnaire, we will choose the values as follows: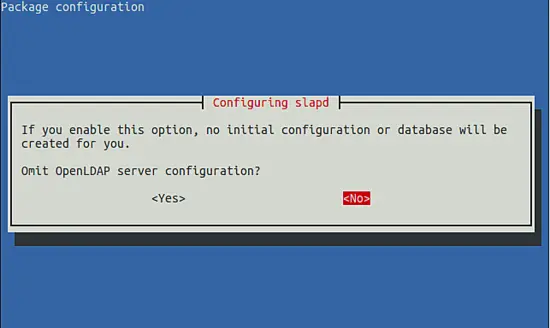 Select

No

: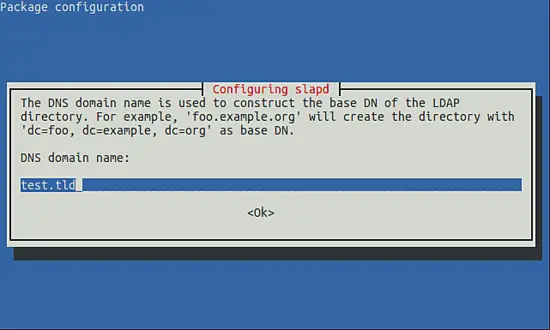 Select

Ok

: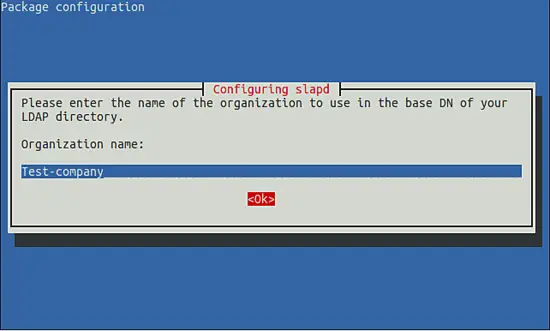 Give any name as per your needs, in my case I am using

Test-company

as the company name. Further press

Ok

.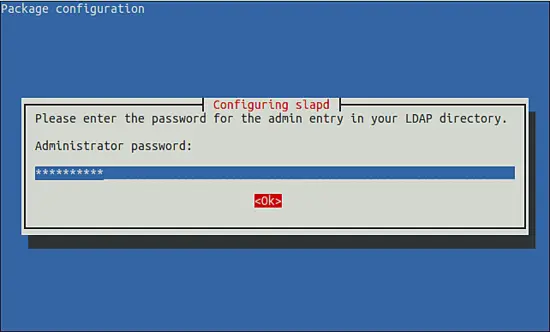 Give an administrative password, and confirm the same.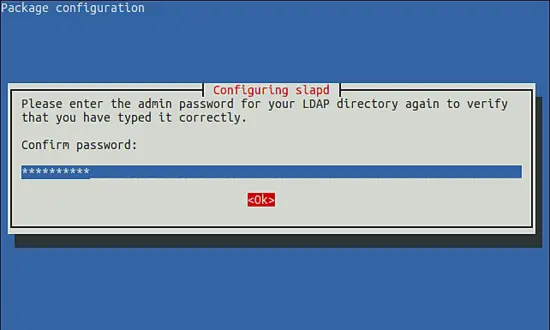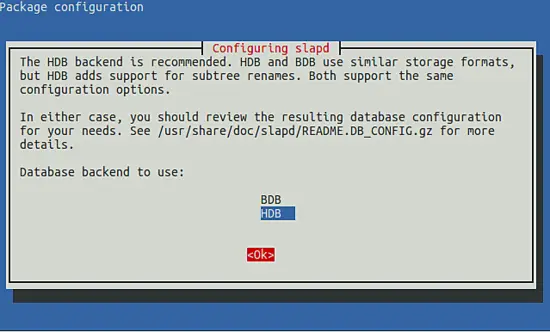 Select

HDB

and press

Ok

.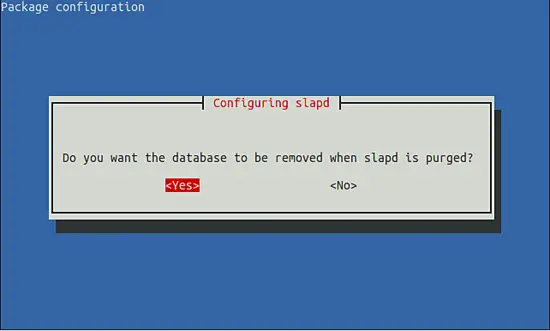 Select

Yes

.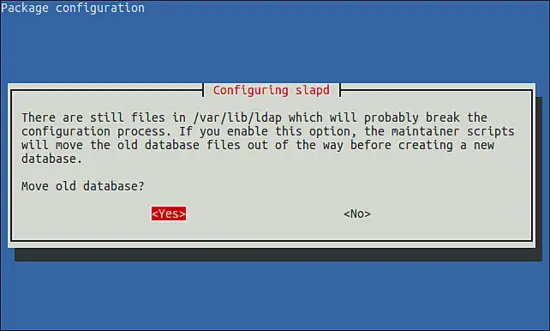 Again select

Yes

and move the old database files.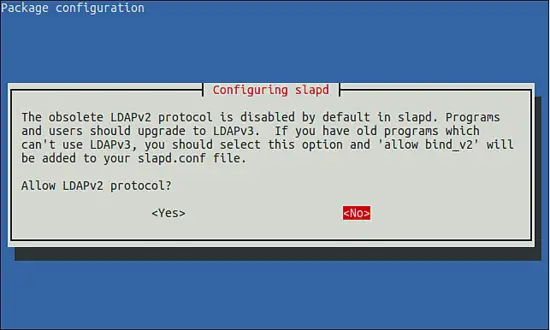 We don't want to use LDAPv2 protocol so select

No

. Now we are done with the configuration, we can check that our installation have all gone well with the command:


ldapsearch -x

It will show output like this:

[email protected]:~# ldapsearch -x
# extended LDIF
#
# LDAPv3
# base <dc=example,dc=com> (default) with scope subtree
# filter: (objectclass=*)
# requesting: ALL
#

# example.com
dn: dc=example,dc=com
objectClass: top
objectClass: dcObject
objectClass: organization
o: Test-company
dc: example

# admin, example.com
dn: cn=admin,dc=example,dc=com
objectClass: simpleSecurityObject
objectClass: organizationalRole
cn: admin
description: LDAP administrator

# search result
search: 2
result: 0 Success

# numResponses: 3
# numEntries: 2
[email protected]:~#
It shows successful configuration for the OpenLDAP server.


3 phpLDAPadmin installation
We can administrate the OpenLDAP with commands, but to make it an easier task I will install phpLDAPadmin. We need to have an Apache server and php installed before phpLDAPadmin installation:
apt-get install apache2 php5 php5-mysql
Next we can install phpLDAPadmin as follows:
apt-get install phpldapadmin
Now we need to modify phpLDAPadmin in accordance to our server requirement so that it will get controlled through it, edit the file  /etc/phpldapadmin/config.php and give the values like this:
nano /etc/phpldapadmin/config.php
Values will be like this:

[...]


$servers = new Datastore();
$servers->newServer('ldap_pla');
$servers->setValue('server','name','Test-company LDAP');
$servers->setValue('server','host','127.0.0.1');
$servers->setValue('server','base',array('dc=example,dc=com'));
$servers->setValue('login','bind_id','cn=admin,dc=example,dc=com');


?>

Note: In above file dc will vary according to your hostname, i have given my company name as Test-company you can use other name as per your choice.
Now open the link http://192.168.0.100/phpldapadmin in any browser of your choice.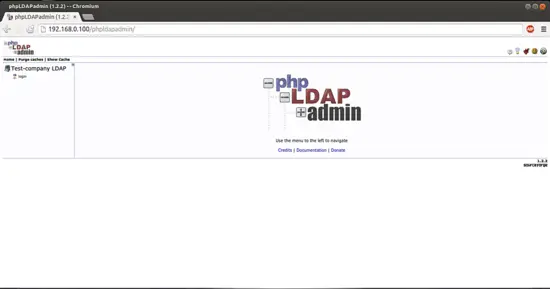 Press Login at left of the panel.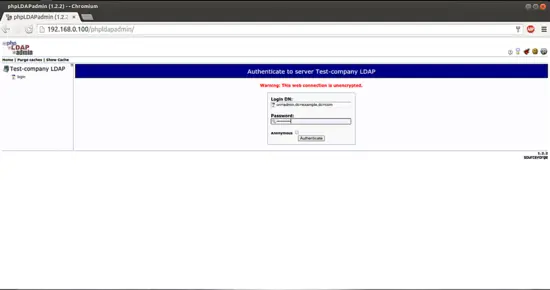 Put the password used at the time of modifying the LDAP, in my case user=admin(it is preselected) and password=howtoforge.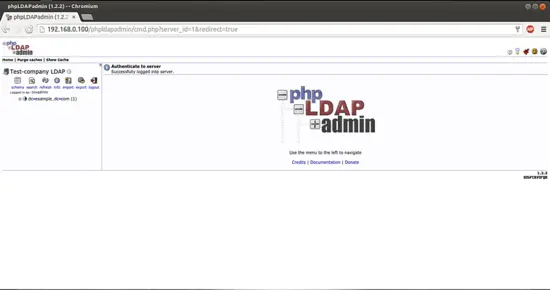 It will be your default welcome page.


4 Adding accounts in LDAP
Next we will create a test entry in the LDAP server and verify the settings in admin panel itself. Suppose we are in a corporate company and we want to classify different teams with  different team stucture, such as Teachnical-team, Accounts Department an HR department etc. Now click on

+

sign

dc=example, dc=com

and at

cn=admin

select

Create a child entry

.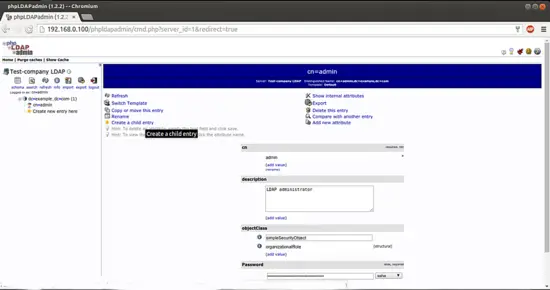 To have such functionality in LDAP select Generic: Posix Group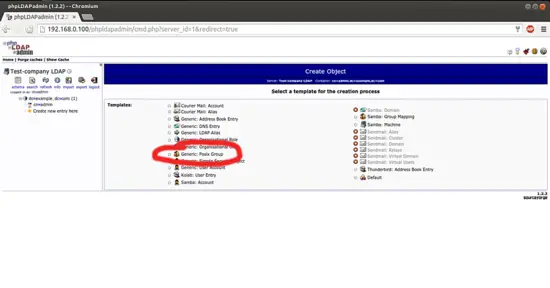 Next you will be redirected as: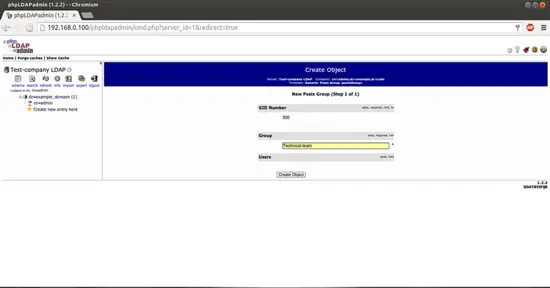 I am just taking an example, and adding a test entry for Technical-team as my group. Press Create Object.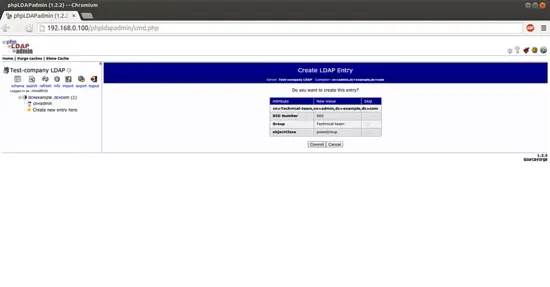 Verify the things and Press Commit.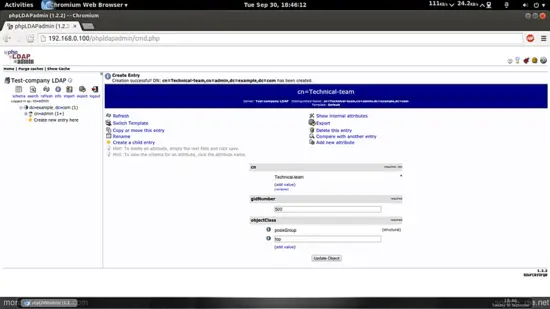 It will create the group As Technical-team, similarily we can create other groups as per our corporate structure.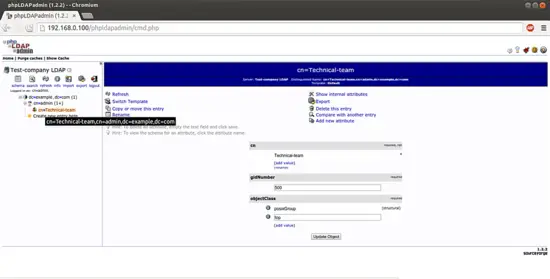 We can check the groups under

cn=admin

similarily add other groups as per our needs.


Congratulations! Now we have successfully configured OpenLDAP in Debian Wheezy :)
5 Links