Forwarding Hotmail To Any Other Email Account
Author: Stephan Jau
Revision: v1.2
Last Change: Februar 8 2009
Introduction
A lot of people have Hotmail accounts and for some reason they might want to get away from it. This could be because they start operarting their own email server or because Hotmail has feature-wise not everything desired nowadays. The problem is that you can't just forward new incoming mail to another non-Hotmail account wihtout paying for it. There are, however two ways, to circumvent that.
Disclaimer: I know, this is not Linux specific but I still think this to be interesting for a few people.
Step 1: Requirements
For setting up an auto-forwarder to a non-Hotmail account there are two things needed:
(1) You need a Hotmail account (well, that's kind of obvious).
(2) You need a cell phone.
Step 2: Setting Up Mobile Notification

The first step that you have to do, is to set up the mobile notification. This requires you to register your cell phone with Hotmail (or rather mobile.live.com).
The simplest way is to:
(1) Log in to your Hotmail account (if you enter http://www.hotmail.com you'll end up at the Windows Live login page).
(2) Below your username on the top right of the screen, you have "Options". Click on it and you get a drop down and among various entries one that is called "More options". Select this one.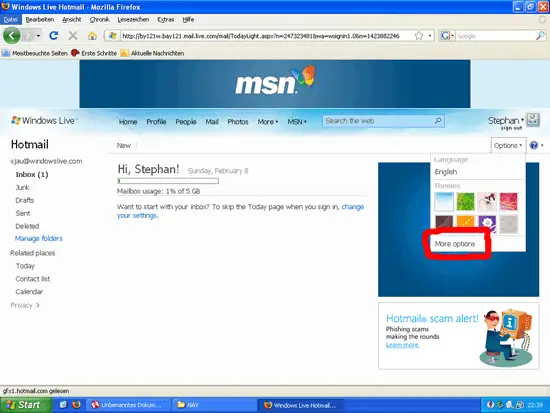 (3) You get to a new screen with different categories. Under the "Manage your account" category you could set up a forwarder to other email addresses. However if you try it to forward the email to a non-Hotmail account it will not be accepted. Instead use the "Mobile alerts for new messages" option in the "Customize your email" category.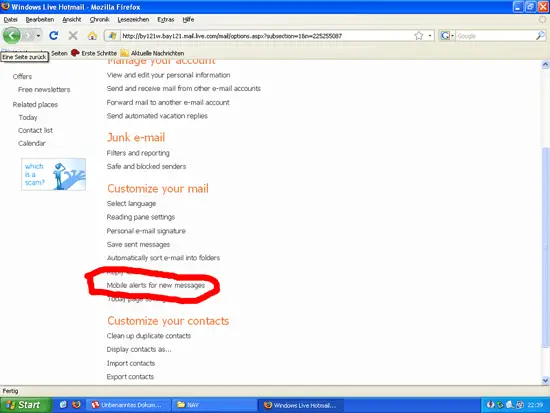 (4) Click then the "Signup for Windows Live Mobile"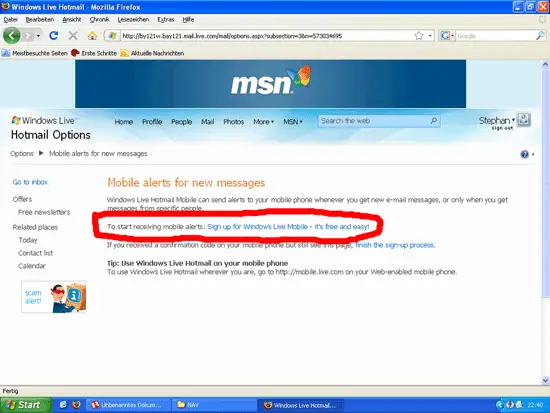 (5) You are then asked to enter your cell number. Enter your carrier number without leading zero and then your phone number. It should then look something like 12 3456789.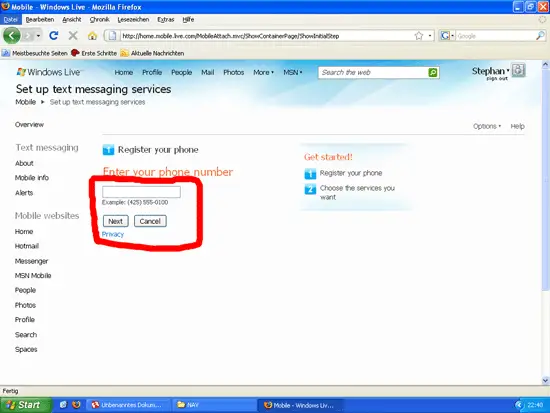 (6) You are then asked to enter your cell provider and other stuff. This will depend on where you are from.
(7) If everything is ok you will then end up on the next page where you can enter the code that will be sent to you by sms.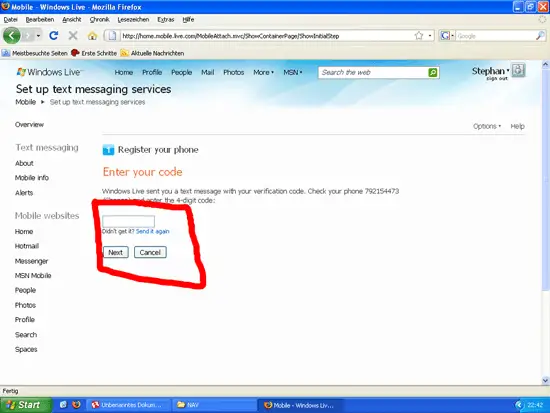 (8) You get now the confirmation that your phone was registered. Now set up the "Hotmail alerts".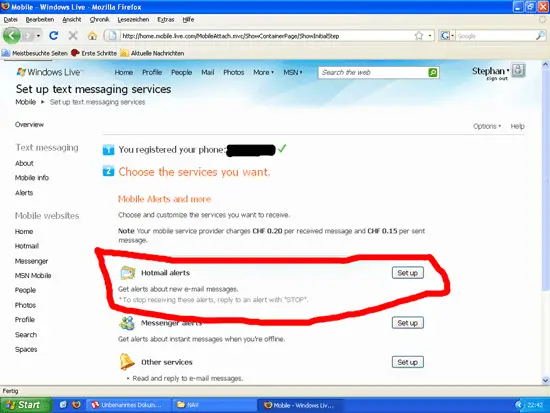 (9) You then need to agree to the pricing and terms of use. It is highly recommended that you read this!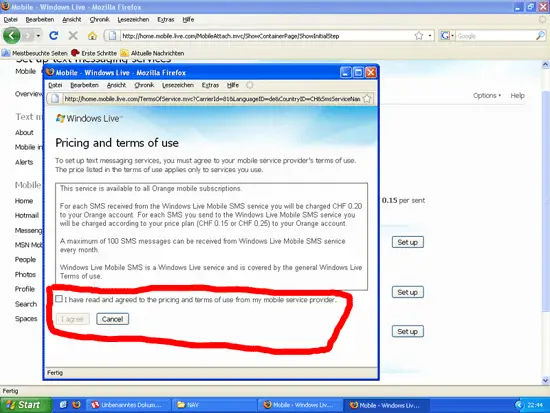 (10) A pup-up appears and this time you will "finish the sign-up process".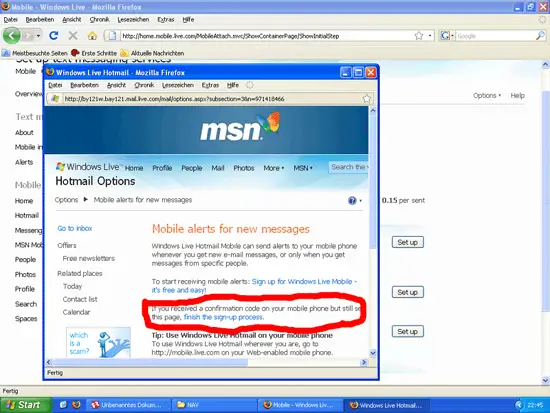 (11) Receiving and replying to those alerts will be charged on your cell phone bill. So you select here "none - never send me mobile alerts".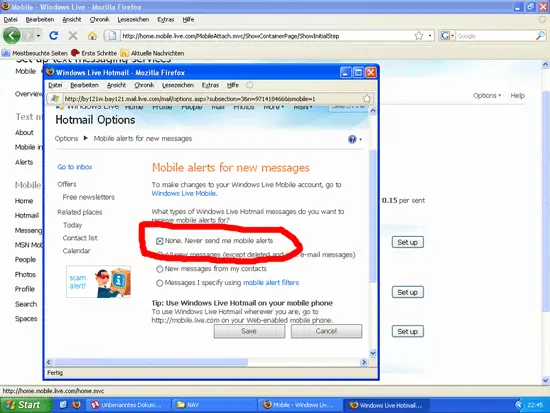 (12) You end up again at the hotmail options. This time select to "forward mail to another email account".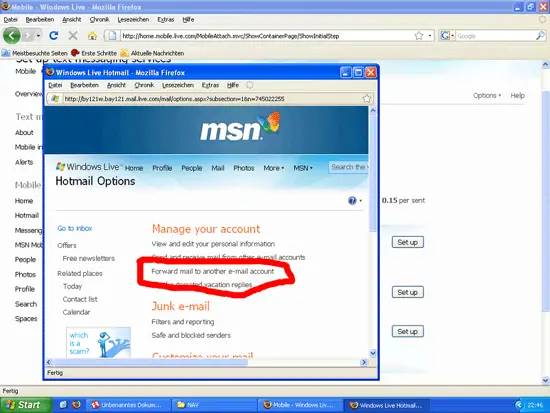 (13) You can now forward the incoming email to another account. Also chose whether to keep a copy in the hotmail inbox.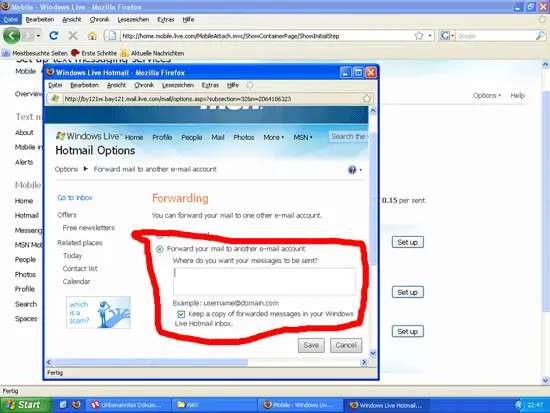 (14) If it is accepted, then you end up again at the account management. Go again into the forward mail option.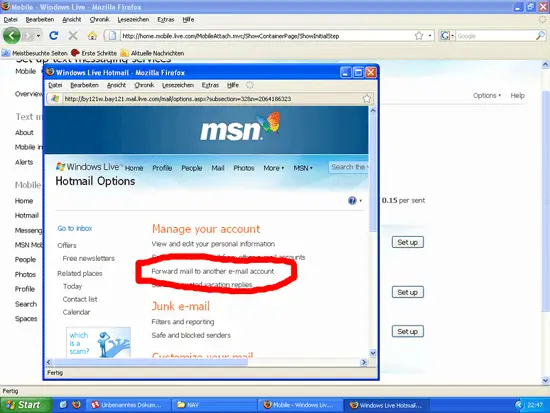 (15) You see now that the forwarding is setup.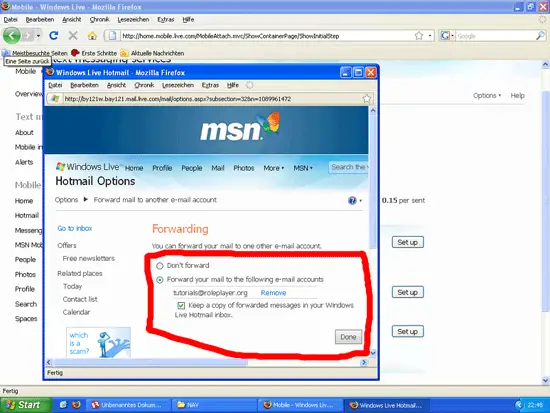 --
If you run into problems it might be that (for some reason) the mobile device notification wasn't properly setup (see here). If that is the case, then do as told in that thread.
- go again to mobile notification setup page
- click on the "Windows Live Mobile" link
- then select "Hotmail notification"
- chose there to do no notification and save it
- retry to setup the forwarding email address
If it still does not work, then repeat the above but select to be notified on every incoming email, send yourself a test email to check whether notification works (you'll be charged for that). If it does work, then turn it off again and now it should definitively work.

Step 3: Get A Copy Of The Existing Emails
Well, very likely you have already a large collection of emails that you want to keep. You could just forward it all to your new email account. However that would alter the sender and date as displayed in the new webmail or email client or.... So, this is not such a good method.
However there are two ways in which you can get hold of it all.
 (a) Using Thunderbird
There are plugins for Thunderbird that will be able to fetch all Hotmail emails through the web access. Here's a good guide for it: http://ubuntuswitch.blogspot.com/2007/09/ubuntu-how-to-get-yahoohotmail-emails.html. However one improvement can be made. Install first both addons, restart Thunderbird and then add the actual Hotmail account.
Once you have a local copy of all your emails then you can just use the Copy To function in Thunerbird to copy all messages into any folders in TB (local folders or IMAP). If you use mutliple computers to access your email, then I'd suggest getting an IMAP account somewhere.

However, depending on your mailbox sizes, it is very slow and you get often time outs. For initial "synching" I suggest way (b) to use.
(b) Using Outlook Connector
For this to be working you will need Outlook installed and WGA verified. You can download the Outlook Connector here: http://www.microsoft.com/downloads/details.aspx?displaylang=en&FamilyID=7aad7e6a-931e-438a-950c-5e9ea66322d4. Once the Outlook Connector is installed, you will get a new menu entry in Outlook for the Connector. Use that to set up the Hotmail account. It will kind of make an IMAP like local copy of it. It won't be much faster either than the Thunderbird way, however you will not get time outs. Once you have you a local copy, be sure to change the Hotmail password in the Outlook Connector so that you can then move around the messages (I couldn't find a Copy To option in the Outlook Connector) so that you still keep - at least for a little while - all your email also in the Hotmail account.
So, with that you should be able to migrate all your email away from Hotmail onto a new account and set up a forwarder, so that incoming new emails will be auto-forwarded.
Step 4: Problem - Inactive Account Deletion

There is one thing more to be considered. Hotmail will delete (or at least they say so) accounts that have been inactive for three months. If you don't use MSN (messenger) and log in there, you need from time to time to connect to the Hotmail account, otherwise after three months it's gone and nothing will be forwarded anymore.
If you don't like MSN  (messenger) and if you're using Thunderbird, you could then, after some time, just delete all email in the Hotmail account and disable the periodic checking of the account and only do a checking at the startup of Thunderbird. That should not generate any timeouts then. Or do it equally in Outlook.
Alternate Solution

Instead of setting up the forwarder by registering your cell number you could also set up an auto-reply with your new email address. This however forces people to send you twice the email. In the end, it's up to you what way you go.
Final Words
There was a time when I liked Hotmail. However recent things like being unable to forward incoming email to a non-Hotmail account or blocking of Firefox in Linux have strenghened my point that one should not give themselves into the goodwill of another company and be at their mercy. I think I presented here a viable way on how to (slowly) get away from Hotmail without any inconveniance.