DesktopNova - Automatically Change Wallpapers On Ubuntu 11.04 (With Classic Gnome)
Version 1.0
Author: Falko Timme


Follow me on Twitter

DesktopNova is an application that automatically changes your desktop wallpaper after a preset period of time. It works with Gnome amd Xfce desktops. This tutorial shows how to use DesktopNova on an Ubuntu 11.04 desktop with the Classic Gnome interface.
I do not issue any guarantee that this will work for you!
1 Installing DesktopNova
Open a terminal (Applications > Accessories > Terminal)...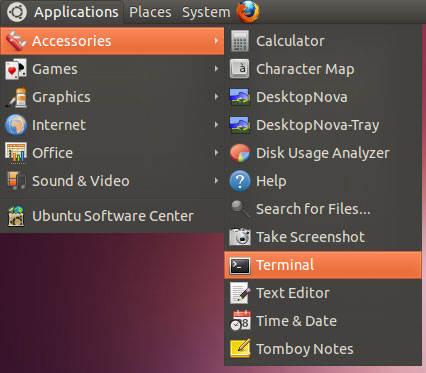 ... and type the following command to install DesktopNova:
sudo apt-get install desktopnova desktopnova-tray desktopnova-module-gnome
2 Using DesktopNova
Before we use Desktop Nova, we must configure it. Go to Applications > Accessories > DesktopNova: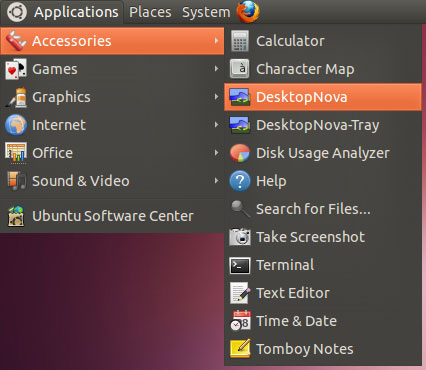 This will open the DesktopNova configuration tool. On the Images tab, please add the wallpapers that you want to use in the rotation. You can add single wallpapers with the Add button, but also whole wallpaper directories and subdirectories with the Add Folder button. I want to add my folder /home/falko/wallpapers, so I click on the Add Folder button: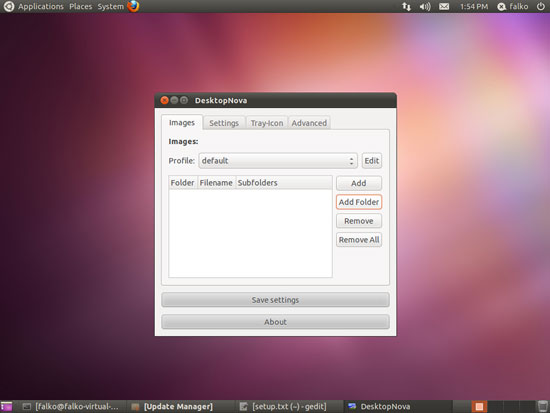 In the file browser, please select your wallpaper or wallpaper folder and click on Open: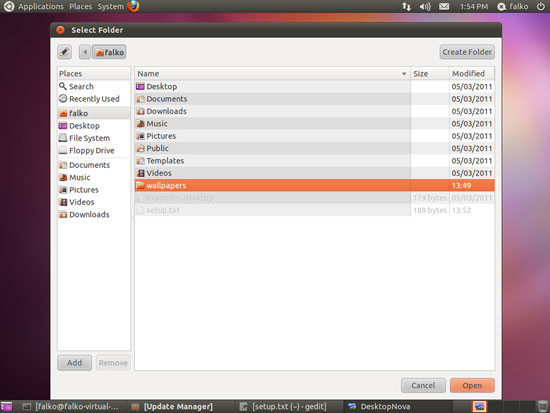 After you have added your wallpapers, please go to the Settings tab. Check Change wallpaper in intervals and specify how often (in minutes) you want DesktopNova to change the wallpaper (default value is five minutes). Also check Change wallpaper every launch and Launch daemon every session (Autorun) to make DesktopNova start when the system starts or when you change a session: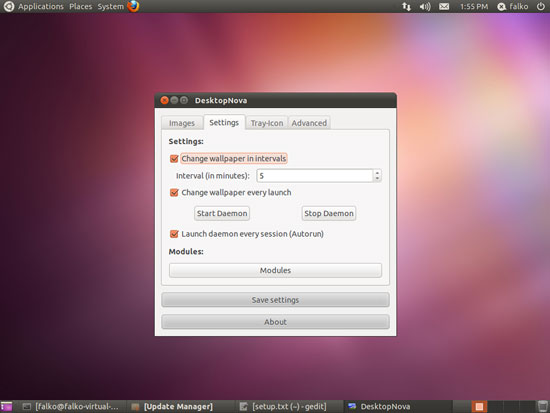 Now we must activate the DesktopNova Gnome module (otherwise DesktopNova will not work). Click on the Modules button...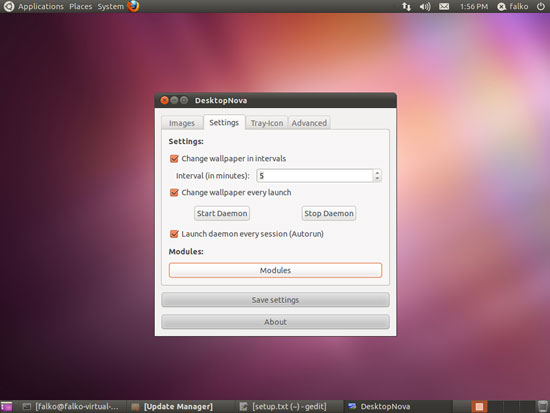 ... and check the Gnome 0.2 module, then click on OK: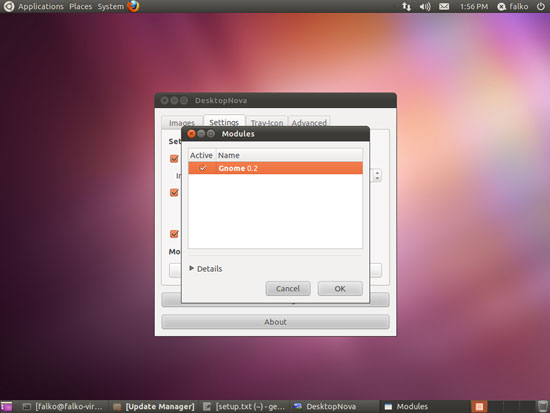 Next go to the Tray-Icon tab and select Launch tray-icon every session (Autorun) to make the DesktopNova tray icon start automatically when you log in - the tray icon allows you to manually change the wallpaper if you don't want to wait for the change interval to finish. Click on Save settings afterwards to save your DesktopNova settings: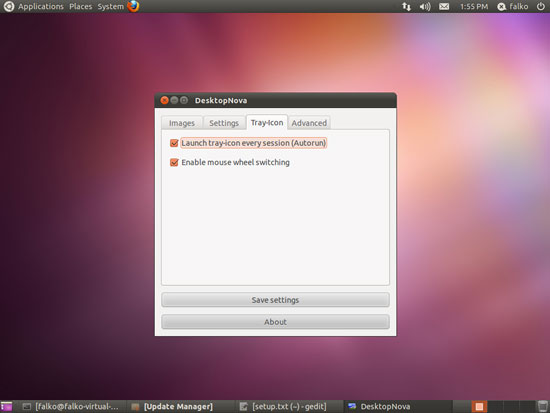 Now we need to start the DesktopNova daemon - go back to the Settings tab and click on Start Daemon, then close the DesktopNova settings window.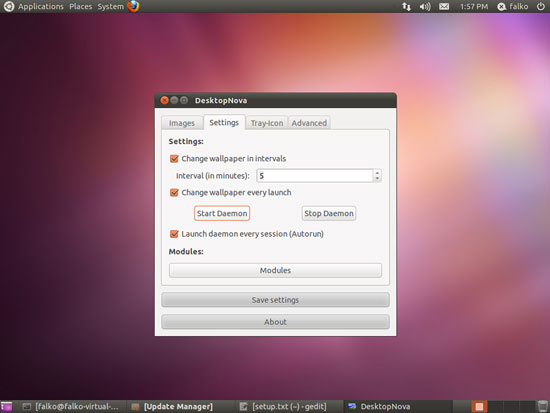 After you have started the daemon, DesktopNova will immediately change your wallpaper: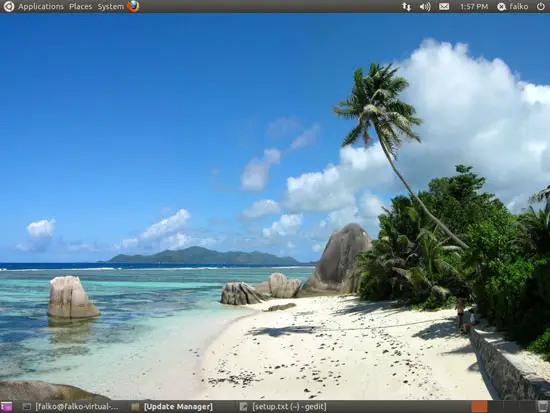 You can log out and back in to make DesktopNova start the tray icon as well (after you log back in, you should again have a different wallpaper). You can right-click on the tray icon and select Next or Previous to go to the next or previous wallpaper immediately: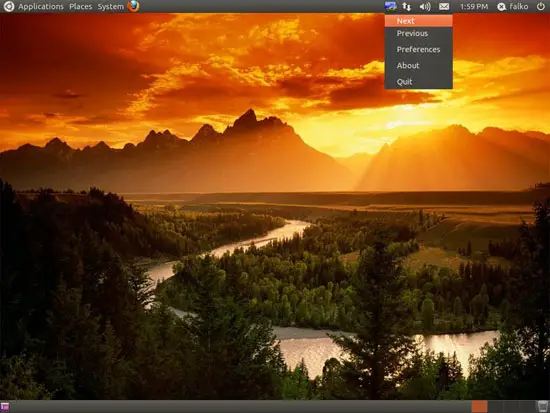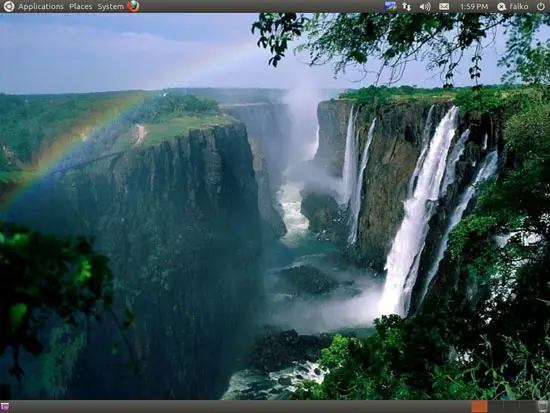 3 Links