How to Rescue your Windows or Linux System with Rescatux
Rescatux is yet another GNU/Linux distribution that is focused on the rescuing of other operating systems. It works in live mode and offers a rich set of tools to address a wide range of problems in Linux and even Windows. What makes Rescatux stand out from the many similarly orientated rescue systems is mainly its straightforwardness. Instead of offering a set of tools that will help you fix your "broken" system, it starts Rescapp right away which is a window that features categorized buttons to address a specific problem.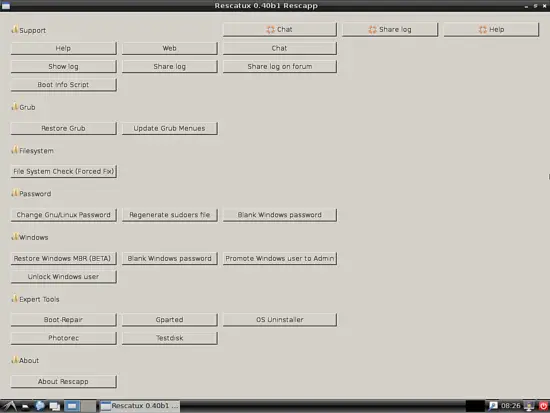 Download Rescatux
The Rescatux ISO Image can be downloaded from here:
Reset Windows Password
First of all, Rescatux can reset your Windows password which is a relatively frequent issue in Windows installations, or promote the default Windows user to a system administrator. This will work for XP, Vista, and Windows 7. Press the corresponding button on the main window and detailed instructions for the selected action will be given to you. When you're ready to proceed, press that "Run" button located on the top.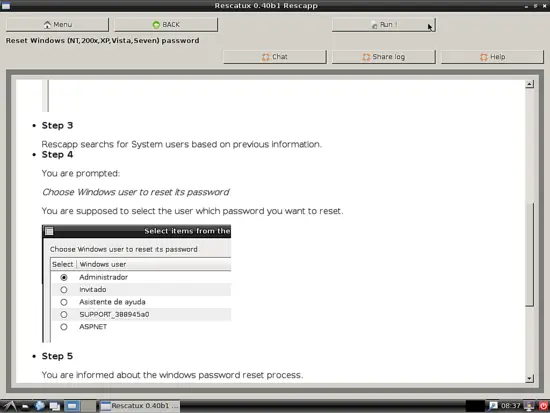 One thing that I find to be missing in regard to the Windows saving features is ClamAV and the ability to detect viruses and delete the infected files. This is another common problem in Windows so it would be nice if Rescatux had us covered in that part.
Reset Linux User Passwords
If your problem is on your Linux partition, then Rescatux can prove to be helpful as well. Changing a user password is as simple as selecting the partition in which the problematic system is installed, then selecting the user you want to configure and then setting a new password.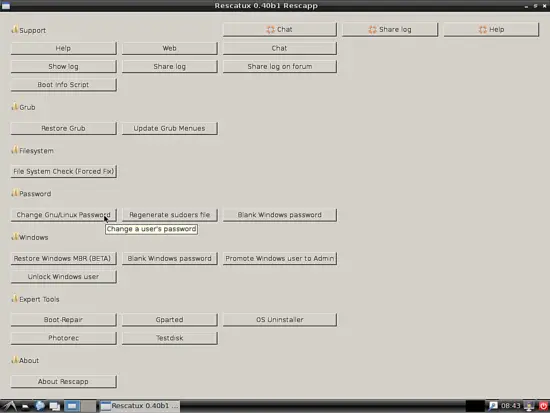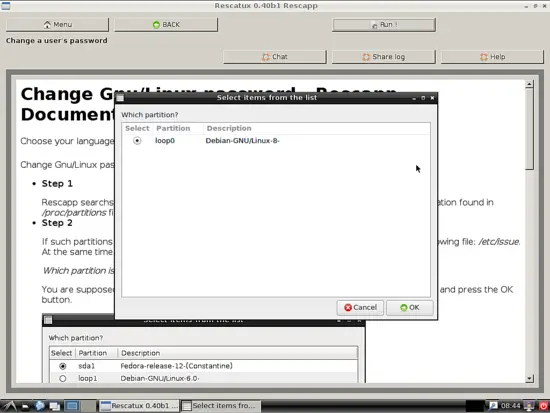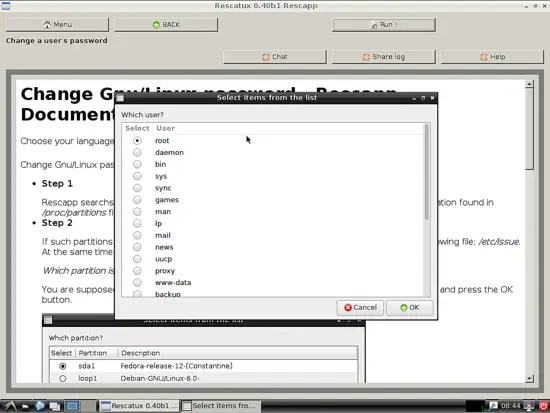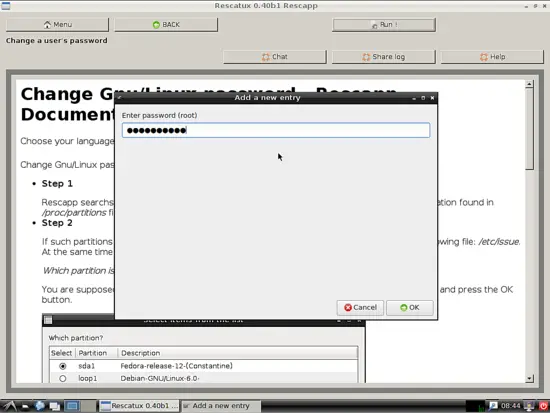 Fix Grub
Grub menus can be updated as well as Rescatux offers the Grub boot repair tool that we analyzed on a previous post. You can either follow the Rescapp path, or go straight on the menu->Preferences->BootRepair.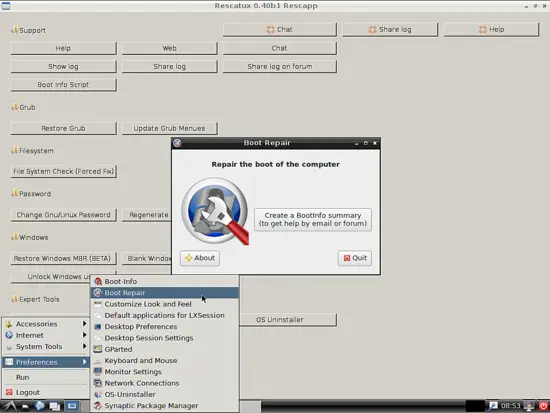 Partitioning
In the "Expert Tools" category, you will find the "Gparted" tool which allows you to configure the detected partitions on a convenient graphical user interface.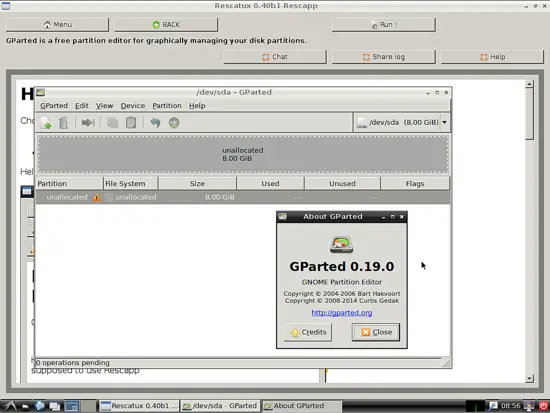 As I am using a Virtual Machine to test Rescatux, I can't configure the only disk that is detectable from Gparted, but you will be able to do so by right-clicking on the partition/disk that you want to configure. This will open up a set of options such as format partition, delete, resize etc.
Restore Files
This is not an obvious feature of Rescatux, but still it can be done through the "Expert Tools" and the button named "Photorec". This is a command line tool that allows users to search for accidentally deleted files in a partition. You may choose the partition where the files were located, choose the filesystem type and then press "c" to initiate the detection of the deleted files.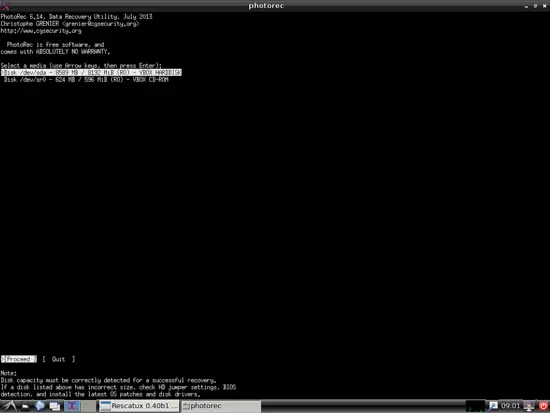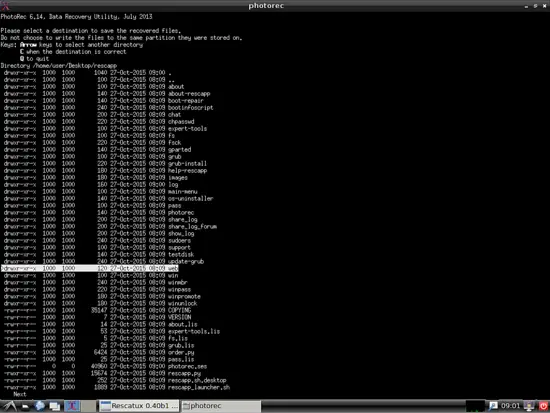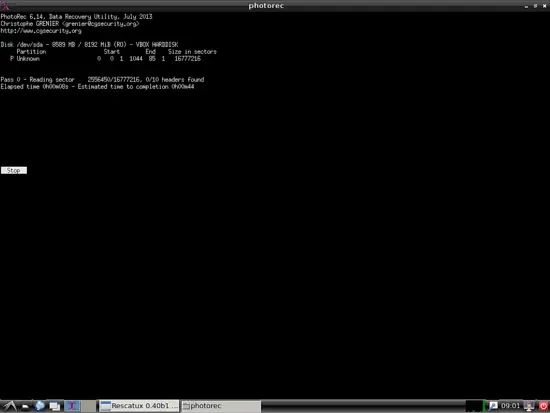 Note that this will only work on HDD partitions, as files that were located in SSD partitions cannot be recovered using Photorec.
For whatever else seems to be unsolvable, you can always hop onto the IRC chat and ask for the help of the Rescatux community. Press the "Chat" button located on the top at any time, and an Xchat session connected to the right Freenode channel will open up shortly.