How to Install ONLYOFFICE Desktop Editors on RHEL/CentOS/Fedora
ONLYOFFICE Desktop Editors allows users to edit text documents, spreadsheets and presentations offline by providing access to the cloud-based ONLYOFFICE portals for an efficient remote team collaboration. ONLYOFFICE Desktop Editors are available as a free to use personal edition and a commercial corporate edition.
This tutorial describes how to install ONLYOFFICE Desktop Editors on Rad Hat-based Linux distributions. To install it on Debian, Ubuntu or Linux Mint, follow the instructions here.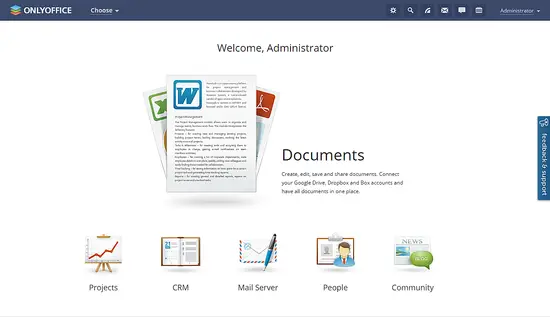 System requirements
Before go ahead make sure your machine meets the official system requirements:
CPU: dual-core 2 GHz or better.
RAM: 2 GB or more.
HDD: at least 2 GB of free space.
OS: 64-bit RHEL, CentOS or other compatible Linux distribution with kernel version 3.8 or later.
Installing ONLYOFFICE Desktop Editors
Add the yum repository to your Linux OS. Create the /etc/yum.repos.d/onlyoffice.repo file
nano 

/etc/yum.repos.d/

onlyoffice

.repo
and add the following data:
[onlyoffice]
name=onlyoffice repo
baseurl=http://download.onlyoffice.com/repo/centos/main/noarch/
gpgcheck=0
enabled=1
Run the following command to install ONLYOFFICE Desktop Editors:
sudo yum install onlyoffice-desktopeditors -y
Running ONLYOFFICE Desktop Editors
Once the installation is over, launch the editors using the terminal command:desktopeditors
desktopeditors
Or, from your computer Application menu - Office - ONLYOFFICE.