Rambox - an alternative Messaging and Email app for Ubuntu
Gone were the days when the Internet was only used by corporates and tech enthusiasts. With government departments and services going online and even schools recommending online learning systems, the Internet is fast becoming a common household technology.
As more and more people are learning to use the Internet, the number of those using emailing and messaging services is also going up. Consequently, the competition in the email and online messaging market is intensifying - just to give you an idea, a single company like Google is offering three services (Hangouts, Messenger, and now Allo) just for messaging purpose.
This, in turn, has resulted in people using multiple services in order to get the best of all worlds. While there's no harm in using several services, you'd likely agree that after a point it becomes really difficult to manage and keep up with all of them. It's then when you start searching for a way that can make life easier for you.
You'll be glad to know that there exists an application, dubbed Rambox, that's built specifically for this purpose - it lets you access all your commonly used web services from within a single window. In this article, we will discuss the basics of this application as well as the features it provides.
Please note that all the commands and instructions mentioned in this article have been tested on Ubuntu 16.04, and the Rambox version we've used is 0.4.4.
Rambox
Rambox is a free and open source messaging and emailing application which - according to the tool's official documentation - combines common web applications into one. It is being marketed as a new way to organize services. "Rambox gives you the possibility to add common services many times you need, all in one place," the official website says. "It's perfect for people who work with many services for business and private accounts."
Rambox is a cross-platform tool, available for Windows, Mac OS, as well as Linux.
Download and Install Rambox
To download Rambox, head to the Download page on the application's website, and click on the link corresponding to your system. For example, I downloaded the 32-bit deb package. Please note that Rambox for Linux is only compatible with Ubuntu 12.04 and higher.
The downloaded package will be in the form of a .deb file, which you can install by running the following command:
sudo dpkg -i <the-deb-file>
For example, in my case, I executed the following command:
sudo dpkg -i Rambox-0.4.4-ia32.deb
After the dpkg command executes successfully, you can launch the application by running the following command:
Rambox
Using Rambox
When the Rambox application is launched for the first time, you will see a UI similar to the following: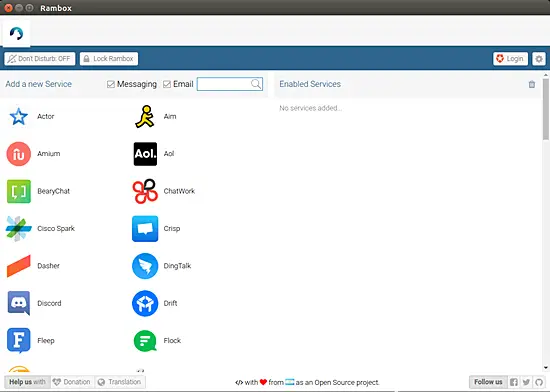 A list of popular messaging and emailing services is displayed on the left side of the application window. In order to enable a service, you first have to click on its icon in the list. For example, here's what happened when I clicked the Gmail icon.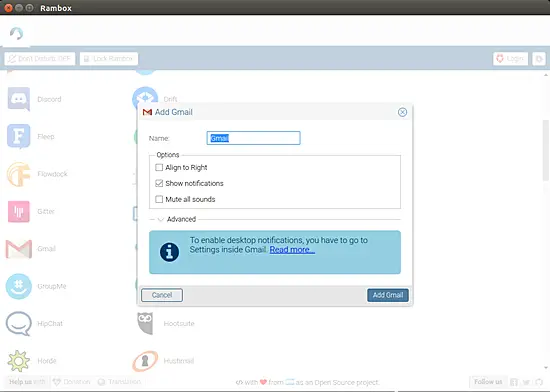 In the window that appeared, I was given an option to give the service a custom name along with some other options, of which Show notifications was selected by default. There was also a note that to enable desktop notifications for this app, I have to tweak some Gmail Settings.
I didn't change anything here, and went ahead and clicked the Add Gmail button at the bottom. As a result, not only the service got listed in the Enabled Services section, Rambox opened a dedicated tab for Gmail asking me to log-in first.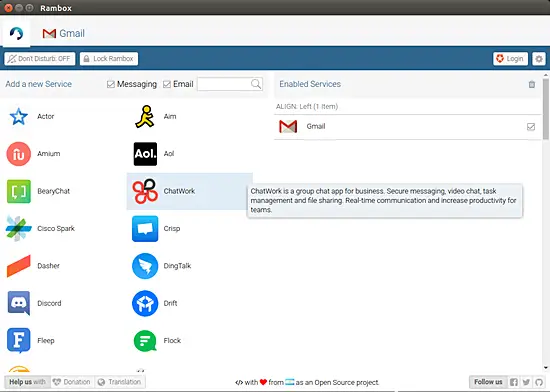 The moment I logged into my Gmail account, the dedicated tab in Rambox started showing the number of unread emails over the tab icon.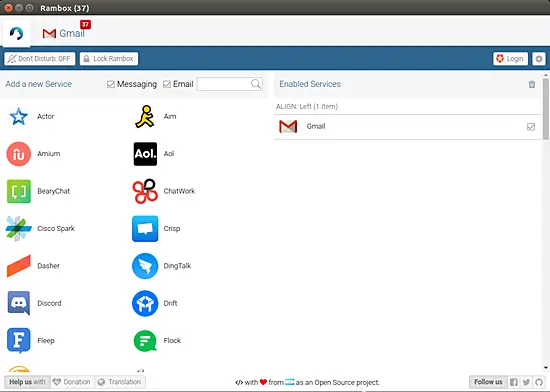 Similarly, I enabled a few more services that I use daily, including WhatsApp, Skype, and Hangouts.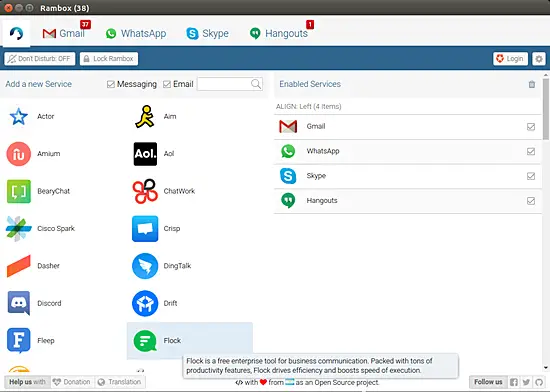 If you take a look at the icons on the left, you'll note that the list of services that Rambox supports out of the box is pretty exhaustive - the project's GitHub page says the number currently stands at 72.
There's also an option to add a service which is not there in the default list.
Moving on, you can filter the list of supported services based on their type - all you have to do is to uncheck the Messenger or Email box that reside over the list.

As soon as you enable a service, Rambox will start displaying desktop notifications for it if possible. But there might be times when you'd want to completely focus on a particular work and avoid getting distracted by these notifications or any sounds they make. So, for those scenarios, you can click the Don't Disturb button that sits below the tabs row.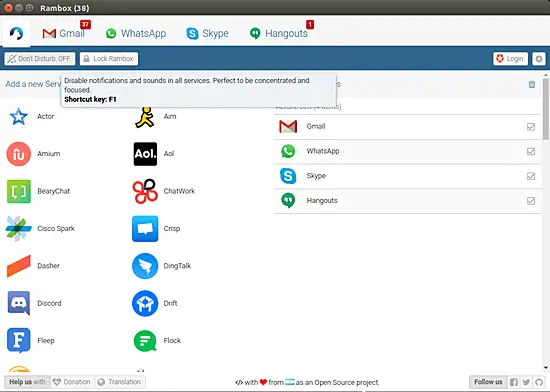 As soon as you turn this feature on, Rambox will let you know that Don't Disturb is now enabled.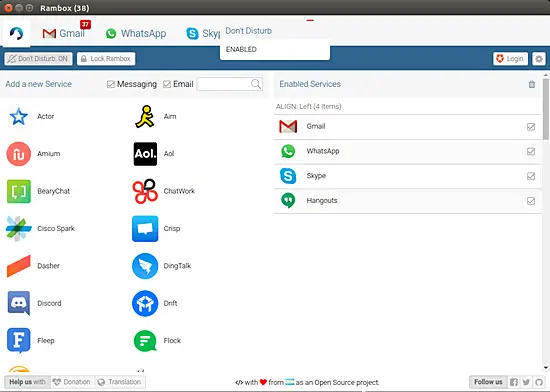 Alternatively, you can use the F1 key to quickly enable and disable this feature.
Now, suppose you're using Rambox on a machine that is being used by others as well. So, for when you are not using the computer, you can lock the application to make sure that your stuff remains inaccessible to others. To lock Rambox, click the Lock Rambox button that sits next to the Don't Disturb button.
Here's what happens when you try locking Rambox: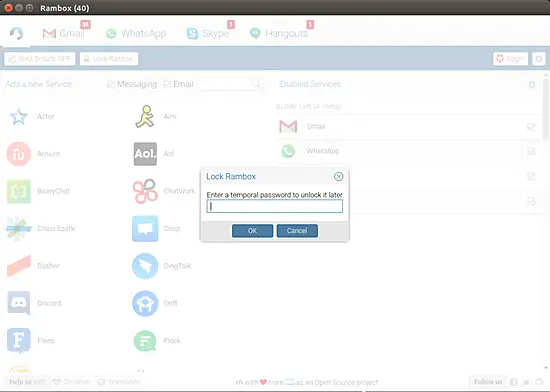 The application asks you to enter a temporary password, and then asks you to re-enter it.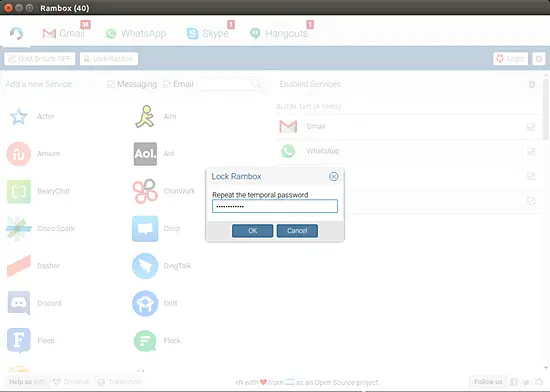 And this way, the application gets locked, giving you peace of mind when you are away.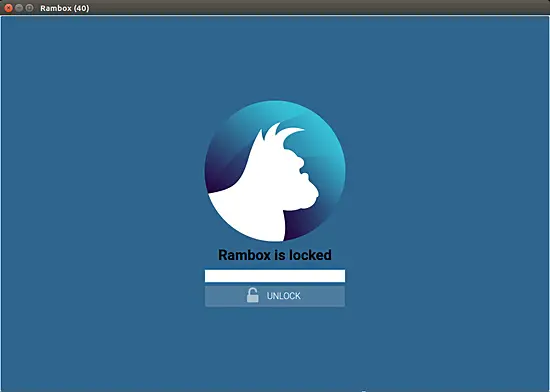 Like any other professional application, Rambox also has a Preferences menu for users to customize the app the way they want. The menu can be accessed by clicking the settings icon present on the extreme right of the row featuring the lock button. Following are the options that the Preferences menu contains: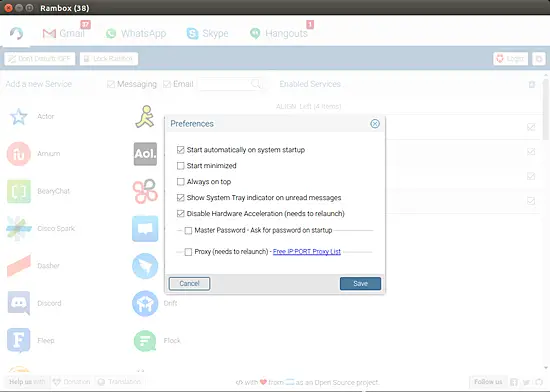 There's an auto-start option which is enabled by default. Then there are options that let you choose whether or not you want the app to start in minimized mode as well as to be always on top of the other apps. The Show System Tray indicator on unread messages and Disable Hardware Acceleration options are also disabled by default.
Finally, given that a user may access Rambox from multiple devices, the application also allows you to create your personal Rambox account so that your configuration can be saved and synced across all the devices you use to access the tool.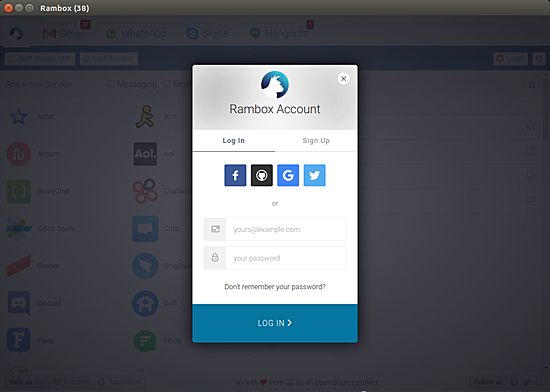 Following is the list of Rambox features the developer advertises on the application's GitHub page:
Sync your configuration between multiple computers.
Master Password.
Lock Rambox if you will be away for a period of time.
Don't disturb mode.
Reorder applications in the tab bar.
Notification badge in the tab.
Minimize to tray.
Mute audio to specific service.
Separate tabs floating to the right.
Go Offline on specific service.
Start automatically on system startup.
Custom Code Injection.
Keyboard Shortcuts.
Proxy.
And as far as user privacy is concerned, here's what the developer says: "No personal information will be saved. Sessions will persist using the partition:persist attribute for Webviews. So every time you open Rambox, your sessions will keep alive until you remove the service. Sync feature use Auth0 for Single Sign On & Token Based Authentication with the integration with Firebase to store the services that user is using (and the configuration for each service). You are always welcome to check the code!".
Conclusion
As evident from the tutorial, Rambox can be a really useful tool if use a lot of emailing and messaging services. Not only it consolidates all your apps under a single umbrella, managing them becomes easy as well. The user interface is smooth and eye pleasing, and I didn't find any major bug while using the app. If you have been looking for such an app, I'd encourage you to give Rambox a try - you'll not be disappointed.