How to access your Google Drive account using overGrive
Despite revealing way back in 2012 that they are working on a Linux client for their Drive cloud storage service, Google is yet to launch it. Thankfully, there are several third-party clients available that can do the job for you. If you are looking for a decent Google Drive client for Linux, you've come to the right place as we've already covered a couple of clients - Grive and Gdrive - here at HowtoForge.
Not limiting our coverage on the topic to just two clients, here in this tutorial, we'll be discussing another Google Drive Linux client dubbed overGrive. Before we proceed with our explanation on this tool, please keep in mind that all the commands and instructions mentioned in this article have been tested on Ubuntu 14.04 LTS.
overGrive
Despite starting as a GUI-based front-end to Grive, the OverGrive project is now not in any way related to the former. Unlike the clients we've covered here at HowtoForge so far, overGrive is neither open source nor a free software (and as already mentioned, it's not command-line based as well).
This means that you'll have to purchase the software if you want to use it. Thankfully, the client comes with a free 2-weeks trial for users to judge whether or not its worth spending money on. 
Installation
To install the software on your Ubuntu machine, first download the relevant package from the tool's official website. The downloaded package will be in the form of a .deb file which you can install either using Ubuntu Software Center or the dpkg command.
Installation through the Software Center is very easy - just double-click the .deb file icon to open the file in Software Center, and once there, click the Install button. Of course, the tool will ask you to provide administrator password in order to proceed with the installation.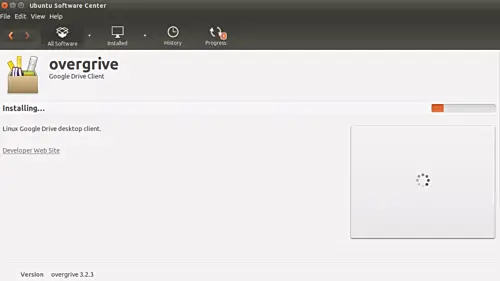 As for the dpkg method, the following command should do the job for you:
sudo dpkg -i [your-deb-file-name-here]
For example, in my case, the command would have been:
sudo dpkg -i overgrive_3.2.3_all.deb
Note: Aside from Ubuntu, the tool supports many other Linux distributions, including Debian, Mint, Raspbian, CentOS, Fedora, openSUSE, and Arch Linux. And as for supported Linux desktop environments, the list includes Unity, Gnome, KDE, Xfce, Cinnamon, and LXDE. The tool supports a number of different languages as well - for the complete list, head to the official website.
Following is a special note the overGrive website contains for users of Ubuntu 16.04 OS: "Ubuntu 16.04 users note that after installation with the new Gnome Software Center, it could report: Could not find 'overgrive', but the software is installed correctly if your search for the application.".
overGrieve Setup and Features
Once installed successfully, you can launch the tool from Unity Dash. When you'll launch the tool for the first time, you'll be asked to setup and authenticate your Google Drive Folder. Click the Connect account.... button in the window below to initiate the process and follow all the steps carefully in order to complete it successfully.

After the authentication process is successfull, you'll see a trial period notification window.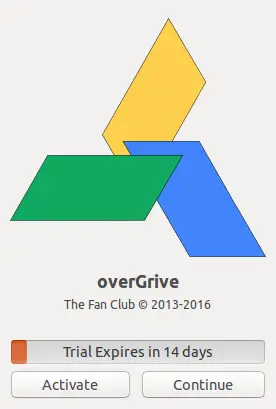 Just click the Continue button here. And in the following window click the Start Sync button.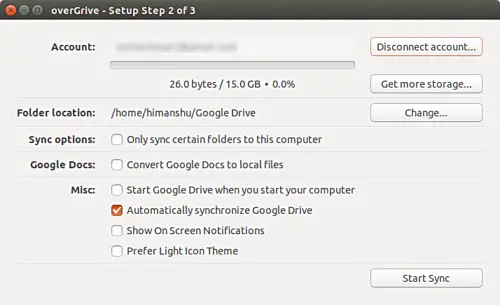 You'll see that the overGrive icon will now appear in the system tray: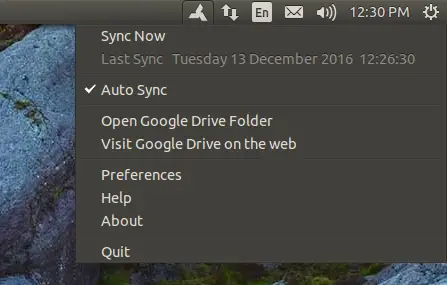 So as you can see, you can configure overGrive to Sync Now or keep it in Auto Sync mode. Should you require, you can open your Google Drive folder that the tool creates locally (stuff that you want to be synced to Google Drive should be kept here), and even visit the Web client of the cloud storage service. 
Following are the preference options overGrive provides: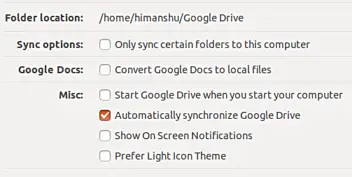 Moving on, overGrive offers several features - following are the ones listed on the official website:
Auto Sync Google Drive to your computer
Auto Sync Local Files to Google Drive
Select Google Drive Folder
Select Google Drive Folders to Sync
Convert Google Docs to Office File Formats for offline editing
Convert Office Files back to Google Docs formats
Sync Multiple Accounts
Support
While overGrive - as mentioned in the list above - allows you to sync multiple accounts, you need to have a separate license for each account. Also, the ability to convert Office files back to Google Docs formats is only there for original Google Documents.
Here are some other noteworthy points about overGrive:
Files in your

Shared with me

folder will only be synced if they are dragged to

My Drive

on Google Drive online. Only files and folders in your My Drive will be synced.

Before syncing for the first time, the developers of the tool suggest you clear all

Trash

files from your Google Drive online.

It is important to allow overGrive to finish the first sync completely. If the first sync does not complete it will open the overGrive setup screen again on restart. You can simply select

Start Sync

again to complete the synchronization process.

Gnome desktop users that prefer to have the application indicators displayed on the the top bar of Gnome Desktop can do so by installing the TopIcons Gnome Shell Extension - for more info, head here.
And here are some of the known overGrive limitations that you should keep in mind as well:
The tool doesn't support symbolic links.
Forward slash ( / ) symbol in filenames isn't supported as well.
Google Drawings converted to SVG or other local file formats cannot be edited and converted back to Google Drawings format. This does not apply for the other Google Docs formats.
Google Maps and Google Forms are not supported.
Conclusion
Agreed, overGrive is a paid software, but that doesn't mean it isn't worth it. Individuals may prefer free and open source software, but organizations usually go for paid stuff in part due to the dedicated support that's mostly included with the product.
The good thing about overGrive is that it lets you access most of its features during the trial period. This should give you a clear idea about how good the software is, and whether or not you should shell out the $4.99 amount that developers ask for each license.
Did you ever use overGrive? How was your experience? You're welcome to share all the valuable details in comments below.