How to install ONLYOFFICE DocSpace on Ubuntu
ONLYOFFICE DocSpace is an open-source room-based platform for document collaboration, distributed under AGPL v3.0.
The service allows working with text docs, sheets, slides, PFDs, e-books. Storing and playing multimedia files is also available. All operations with documents are performed inside rooms with the pre-set access level: Collaboration rooms for real-time co-authoring and Custom rooms for reviewing, filling forms, commenting, sharing, etc.
Available user roles allow securing the whole space and separate rooms: owner, DocSpace/room admin, power user, user, editor, viewer, reviewer, commenter, form filler.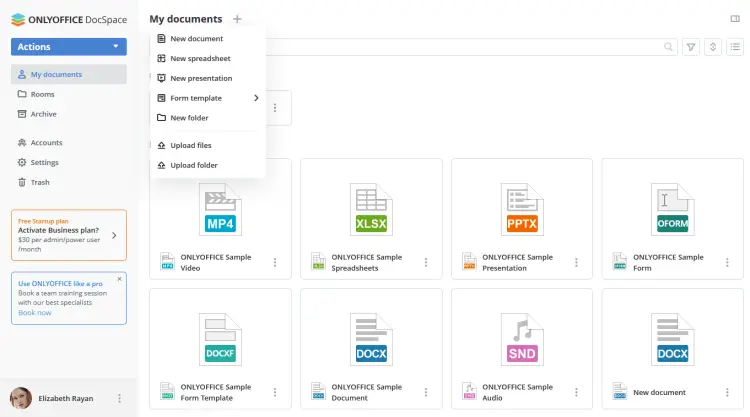 In this tutorial, we'll learn how to install ONLYOFFICE DocSpace Server on Ubuntu using the provided script.
System requirements
CPU: at least 4-core (6-core recommended)
RAM: at least 8 GB (12 GB recommended)
HDD: at least 40 GB of free space
At least 6 GB of swap
Step 1: Get the script
Download the Docker script file:
wget http://download.onlyoffice.com/docspace/docspace-install.sh
Step 2: Install ONLYOFFICE DocSpace
All the installation actions require root rights.
First option: from the DEB package
Run the command:
bash docspace-install.sh package
Second option: using script for Docker
Run the command:
bash docspace-install.sh docker
Once the installation is finished, open a browser and enter the local network computer IP address to access the DocSpace setup page.
Specify your email and password, accept the License agreement terms. You are also able to select the necessary language and time zone using the corresponding drop-down lists.
When all the parameters are set, click the Continue button.
That's all! You are now able to organize document collaboration with both internal and extremal users by creating rooms with flexible access permissions.