Easy Way To Create Bootable Ubuntu USB Pendrive
This short guide explains how you can create a bootable Ubuntu USB pendrive.
Requirements
In order to make a Bootable Ubuntu pen-drive you will need:
1 - The USB Startup Disk creator tool. which is available in Ubuntu (System > Administration > USB Startup Disk Creator).
2 - A USB drive or memory card with minimum 700MB
3 - Ubuntu CD or ISO image (downloadable from Ubuntu website).
Procedures
Launch the USB Startup Disk creator tool from System > Administration > Create a USB startup disk.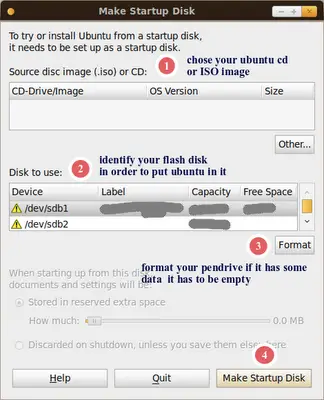 In first step (step no 1 in pic):
Either insert your Ubuntu CD, or click Other and browse to your ISO file. (If the application doesn't recognize your CD, try clicking Other and then Cancel. This caused the CD to show up.)
In second step (step no 2 in pic):
Plug in your USB drive or card. The application should recognize the drive immediately and check that there is enough free space. If you have multiple USB drives, select the one you want to use from the list.
In third step step (step no 3 in pic):
If your USB flash was not free, do format it.
In last step (step no 4 in pic):
Finally, you can choose whether you want your USB system to be persistent between boots, or static like a live CD (changes will stay or discarded). Adjust the slider to choose how much space Ubuntu will have on the disk to expand to, or select the Discarded on shut-down option (this will remove all changes you've done on the Ubuntu on your flash).
Click Make Startup Disk, and wait while the USB system is created. Now you can boot from this drive on any system which supports USB boots.
Booting from the USB drive is just like a CD; you'll have to select Try Ubuntu from the boot menu to load the desktop. If you allocated space for a persistent system, anything you install or change on the system will persist the next time you boot.