Use Minitube To Watch YouTube Videos On Your Desktop (Linux Mint 11)
Version 1.0
Author: Christian Schmalfeld  <c [dot] schmalfeld [at] projektfarm [dot] de>


Follow me on Twitter

This article is about how to watch YouTube videos on your desktop with a tool called Minitube. Minitube is a piece of software with a nice GUI that lets you enter keywords into a searchbar just like on youtube.com to display a list where you can choose your desired video from. It is then played directly in the graphical interface without the need to install any flash player for your browser or even open it.
1 Preliminary Note
I have tested Minitube on a Linux Mint 11 machine but it should work similarly with other distributions. Please be aware that Youtube may alter its source code quite regularly to prohibit piracy and downloading, all software accessing the videos must be adjusted to the code before being able to do so again.
I do not issue any guarantee that this will work for you!
2 Download The Minitube Package
Although Minitube is available in the Ubuntu repositories, the version that is offered there is out of date a long time due to the Youtube code alterations. Therefore you have to download and install the package manually which is available on http://pkgs.org/download/minitube. Choose the appropriate link for your package - since I am on a Linux Mint 11 64-bit system, I pick the Ubuntu 11.10 amd64 debian package: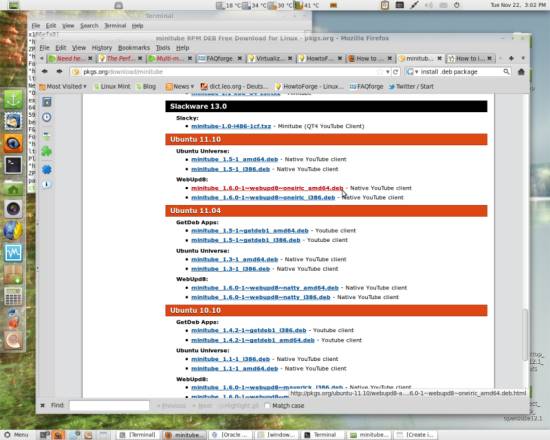 Next, scroll down and go to select mirror: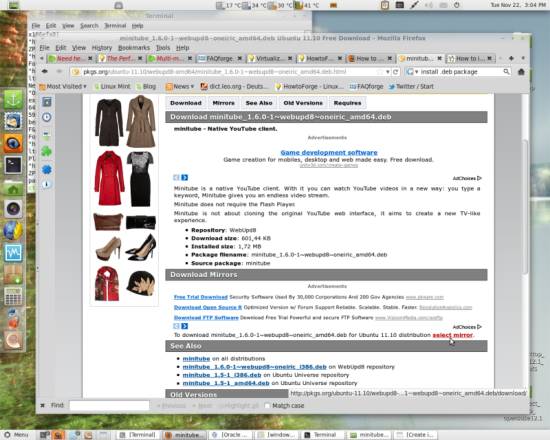 Now click on binary package to start the download: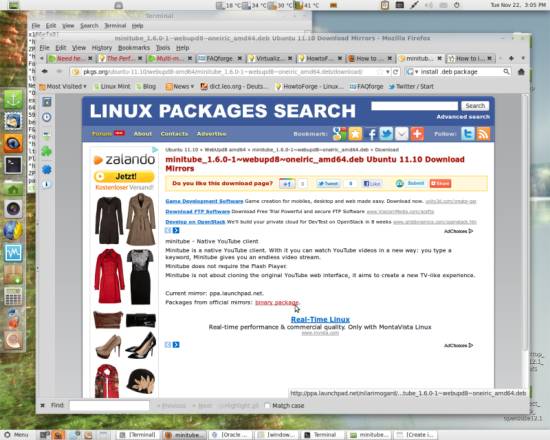 A download window opens. Select Save File and click OK to proceed.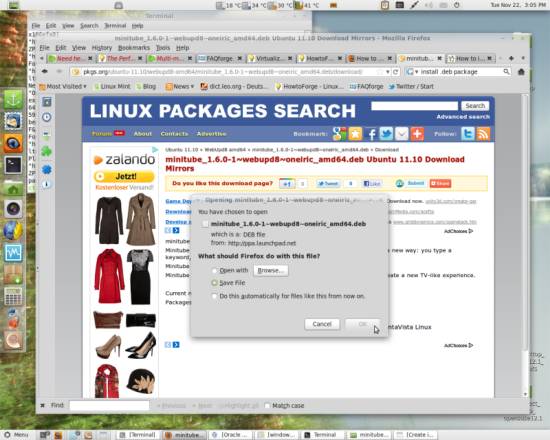 The package then is downloaded to your internet browsers default download location. For me, it is /home/ctest/Downloads, ctest being my username on the computer. Therefore I first switch into my download directory:
cd /home/ctest/Downloads
3 Install The Downloaded Package
The installation is really simple using the dpkg command. First you need to find out the package's exact name. Simply open a terminal System > Terminal and enter:
ls -l
to get a list of your download folder's content:
[email protected] ~/Downloads $ ls -l
total 1852380
-rw-r--r--  1 ctest ctest     353912 2011-10-05 10:23 124442-Pulse-Glass.tar.gz
-rw-r--r--  1 ctest ctest     161393 2011-10-04 13:01 67045-todaycalendarthemes.tar.bz2
-rw-r--r--  1 ctest ctest     177520 2011-10-04 12:58 Lyrics_0.6.9.tar.gz
-rw-r--r--  1 ctest ctest     612406 2011-11-22 14:55 minitube_1.6.0-1~webupd8~natty_amd64.deb
-rw-r--r--  1 ctest ctest 1784184832 2011-11-21 09:58 Pinguy_OS_11.10-shell-beta2_x86-64.iso
Our package is called minitube_1.6.0-1~webupd8~natty_amd64.deb. Knowing that, you can easily install it by entering
sudo dpkg -i minitube_1.6.0-1~webupd8~natty_amd64.deb
4 Start And Use Minitube
Start Minitube from the menu by navigating it to Applications > Sound & Video > Minitube...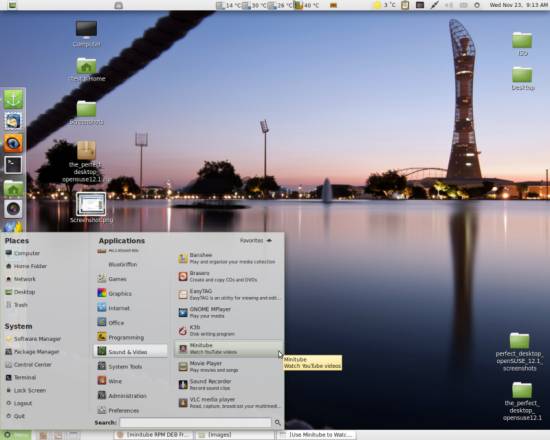 ...or via terminal by entering
minitube
Minitube appears as a window with the usual Youtube controls at the bottom and the top and lets you search for keywords and channels. Additionaly it shows a list of recently entered keywords.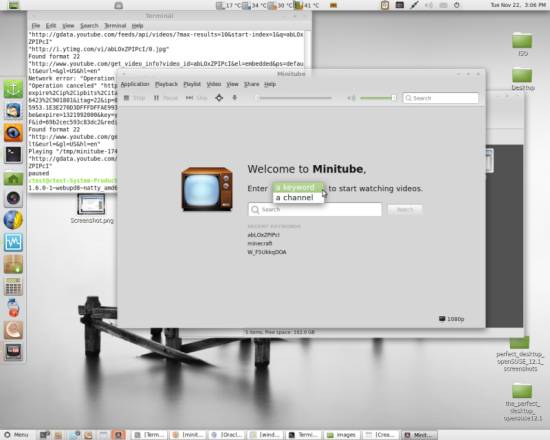 To start watching, enter a keyword and select the desired video from the list on the left: