Server Monitoring With BixData - Page 2
Notification Setup
Now that the BixServer knows about the BixAgent we can setup the notifications.
BixData has a very flexible notification system that can be a little confusing at first but is quite powerful once you become familiar with it. In our case we want to create two notifications. One for when the webserver is completely down and another for when the load on the webserver is too high. We do all this from the Notification Setup tab.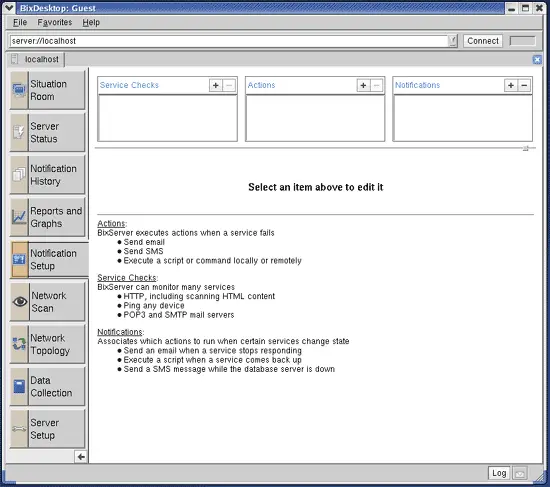 Notification Setup Tab
Webserver Down Notification
For the first notification we make what is called a Service check to check if HTTP is running on the webserver. We do this by clicking + by the Service checks. This brings up a dialog that lets you choose a name and a type of service to check. Select the HTTP check.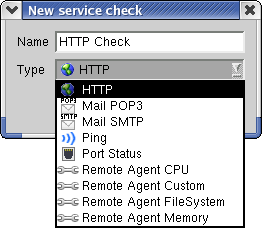 New Service Check Dialog
The new HTTP check is now added to the list of service checks we have configured. Click on this new HTTP check and set the options for your particular setup. In our case we just want to add the webserver from the hosts column as the machine to be checked. All the other values are fine left as default. Click the Apply button to save your changes to the BixServer.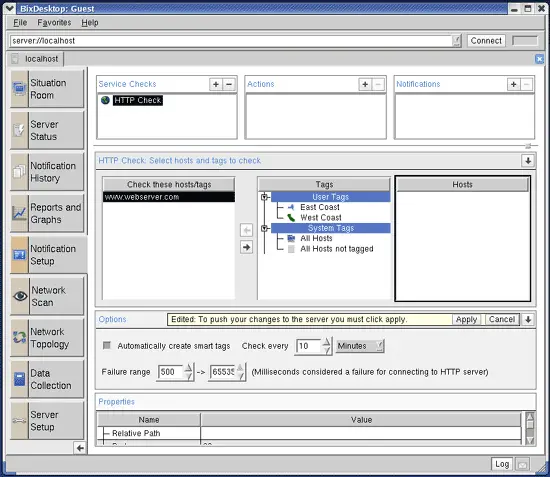 HTTP Check Options
Now we need to set up the two Actions that are needed for this notification. We need an action that mails us and an action that mails our coworker if we haven't fixed the problem in a set amount of time. Click on the + in the Action box. Select Email Action and name it something distinguishable like "Email me". Click on the newly created email action. Now you can set what address it should email and remember to set the smtp server to use. Click Apply to save your changes. Do the same thing again to email your coworker except name it "Email Bob" and put in Bob's email and the smtp server to use. Click Apply to save your changes.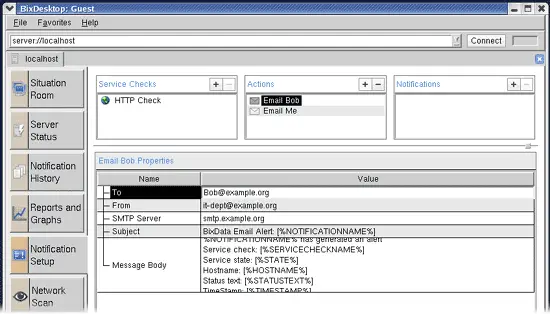 Email Action Options
Now we can create the actual Notification. Click on + by Notifications and give it a name. Click on the new notification you just created.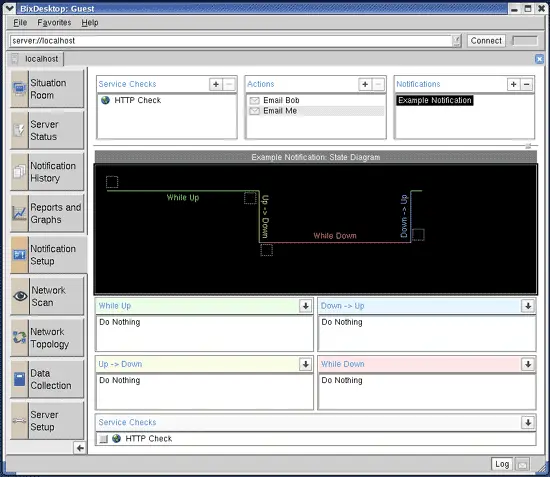 Notification State Diagram
Here we have what is called the Notification State Diagram. It is really fun to use! This allows you to specify various actions to be taken at any of the various stages of a particular service going down and then back up. First select what service check we want this notification to apply to by checking the checkbox. In this case our HTTP Check from above.
Now we want to add our actions. We want it to email us when the service goes from up to down so in the box labeled Up->Down right click on Do nothing and select Set Action and then select "Email me."
If the webserver stays down for more than an hour we want to send a mail to Bob, since I'm obviously on a date or something. For this we move to the box labeled While Down. Here we again right click on Do nothing but now select Wait and set the time to 1 hour. Now we see the clock icon has been added to the diagram. Now we right click on Do nothing again and select Set Action and then "Email bob.". Click Apply to save your changes. Bob will definitely handle the problem since he doesn't date much. The final state diagram should look like this: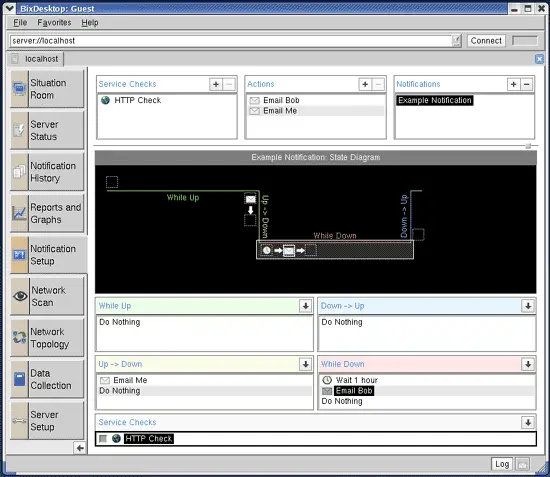 Completed State Diagram
This system is very flexible and becomes quite intuitive once you have used it a couple times. You can have actions repeat or add any number of actions to each change in state.
Sub pages
Suggested articles