Urban Airship: The #1 push notification platform for top brands.
Download YouTube Videos With youtube-dl On Ubuntu 9.04
Version 1.0
Author: Falko Timme


Follow me on Twitter

youtube-dl is a small command-line program to download videos from YouTube.com. It allows you to save videos as .flv files. This short article shows how to install and use it on Ubuntu 9.04.
I do not issue any guarantee that this will work for you!
1 Installing youtube-dl
youtube-dl is available as an Ubuntu package, so we can open a terminal and install it as follows:
sudo aptitude install youtube-dl
2 youtube-dl Usage
To learn about youtube-dl's usage, take a look at its man page:
man youtube-dl
Basically it works as follows:
youtube-dl -o [name of output file] [YouTube URL]
E.g.:
youtube-dl -o test.flv http://www.youtube.com/watch?v=6mIZvDD0RkQ
would save the video from http://www.youtube.com/watch?v=6mIZvDD0RkQ as test.flv in the current directory.
To watch the downloaded video, browse to its location in the File Browser and double-click the file: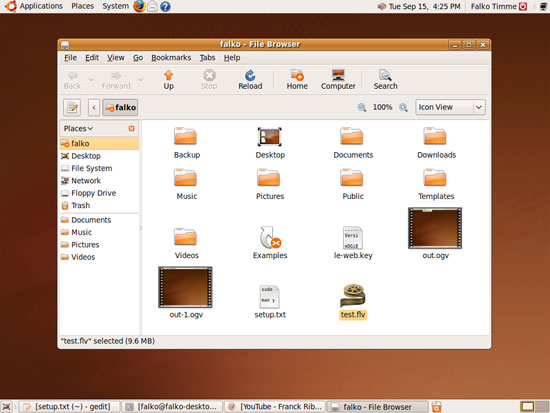 The Movie Player will open and start the playback of the video. (If required plugins are missing, you will be guided through their installation before the playback starts.)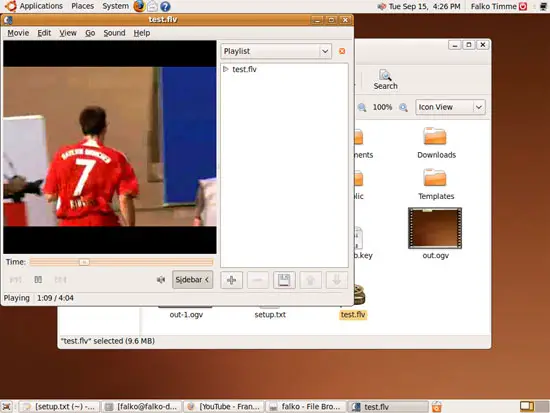 3 Links